Winter Wedding in Paris
A winter wedding has a lot going. Yes, summer weddings are impressive, but there are some drawbacks. The sweltering heat can make a mess of the bride's hair and makeup. And with a hectic schedule full of weddings, some guests may confirm a "no" to your hot-weather party. That's a shame, isn't it? But with a winter wedding, you can avoid all that and get stunning snowy wedding photos, Christmas-themed or new years wedding decorations, and more.
Still undecided about organizing a winter wedding? Then you'll be motivated after telling you some of the advantages of a winter wedding. From less stress due to the weather to better rates from an unconventional wedding venue, that's why you'll be grateful to get married in the winter season.
You have decided to have your big day, a winter wedding in Paris. And to be honest, what can be more romantic than having your wedding in the city of love? A cold, but beautiful and sunny winter day in the city, starting at Trocadero, Galeries Vivienne to the banks of the Seine River near the church of Notre Dame.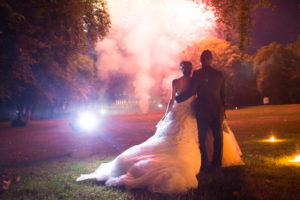 Less stress
A very positive aspect of winter weddings is the lack of stress as they typically take place indoors. The chance of rain and wind can make the planning period amazingly upsetting and possibly expensive on the off chance that you would like to include a tent. In addition, guests are exposed to warm and cold weather at all open-air weddings and can be very uncomfortable. Being able to get the natural elements out of your head means less stress for you, your vendors, your guests, and your family.
No humidity
One of the best advantages for winter weddings is the lack of humidity, which, if you are from a very humid area, like the south, you know is a great advantage. Both your hair and your makeup will thank you for it.
More venue dates and better rates
Most places and sellers book quickly during the summer months and come with a high price tag. However, those same places and sellers are available for a lower price during the colder months. Because the winter months are not as busy as others, you will also be able to focus more on your big day. Fall is difficult for vendors and venue owners as they are juggling so many events, girlfriends, families, vendors, and logistics.
You can choose that luxurious hotel where you always wanted to have your wedding or that chateau that was out of budget during the summer. Paris and its surroundings offer you a great variety of places to celebrate your wedding. And in winter everything becomes much more accessible.
Related: Luxury Hotels In Paris – Part Two
Related: Luxury Hotels in Paris – Part Three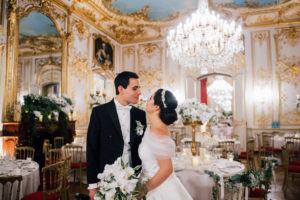 Decorations
While the time of year may not be the reason you chose a winter wedding, there are many benefits to a celebration that is aligned with the holidays. For starters, any place you choose will probably already be decorated for the holiday season, adding a more festive feel to your special day. And, at no cost to you.
Also, any view of Paris is the perfect decoration for a wedding. A winter wedding in this city can be the most beautiful thing ever!
Cheaper travel and accommodation
Travel and hotel stays are expensive in the summer. Thus, winter weddings permit guests to take advantage of low season costs for their travel and accommodation choices. This is a benefit for everyone.
Wedding fatigue won't be real
The spring and summer months can be so full of weddings that your family, friends, and guests can be very tired at the end. A wedding in January, February, or March is probably the only one your guests will attend that winter, making it something people will really look forward to. Another bonus? You'll probably get your wedding film back faster in the winter because the cameraman is less busy than in the spring and summer months.
It's something out of the ordinary
A winter wedding is something different. A winter wedding in Paris is unique. From the color palette to the flowers and decoration, there are elements of the season to inspire your theme that will stand out in a sea of peonies. If your style is romantic, try shades of winter white and lots of green, and if you go for a rustic, cozy vibe, use lots of wood and deep tones.
On the other hand, since summer is another popular time of year for weddings, many people have to choose between attending some celebrations and skipping others. And, since friends with children have to figure out childcare options and when to take their children out of school. Then, they can decline an invitation if it doesn't fit their lifestyle. Generally speaking, winter weddings tend to have a stronger RSVP list. Destination weddings are hard enough on most couples' guest lists. But, guests are more likely to attend a winter wedding. And, they will appreciate a built-in vacation from the cold weather at home.
It's the best time for the Black Tie
In case you're arranging a formal wedding, you'll be able to listen to far fewer complaints from your guests in a formal dress when it's cold outdoors. Tuxedos were not made for outdoor ceremonies and cocktail parties in the heat of summer, however, they are the perfect choice for winter weddings indoors.
Because of the warm temperatures and outdoor locations, summer brides are often forced to choose light dresses that keep them cool all day. But winter brides can feel free to choose heavier dresses and gowns that would leave summer brides sweating (or, if you're actually going to be inside all day, you can feel free to wear one of those summer dresses with a breeze!) Add fun accessories like fur coats, capes, sweaters, and gloves to keep you warm in style. Brides who can't wait to get their thick fabrics out each fall: this is their season!
You won't be a disaster
Some people seriously don't handle the heat well. It irritates them, not to mention makes them sweat a lot. When it comes to the weather, you can always add layers to combat the cold. But in the hottest months, you simply can't get your clothes off. If you're stressed out about having heat and sweat for your wedding photos, then a winter wedding is perfect for you.
Opportunity for Lighting Variation
Winter allows for experimentation with unique lighting that would not be applicable in summer. With creativity, decorating the wedding venue with distinctive lighting varieties will add character to the wedding and create a more intimate feeling for you and your guests. Why not project stars on the ceiling to take after the winter night or change the scene with fairy lights and candles? There are many different techniques you can use to complement your big day.
Stunning Snowy Wedding Photos
If you're lucky enough to get a splash of snow before your big day, you can take some stunning snowy wedding photos that will rival any summer photo in the sun.
Of course, summer weddings are very beautiful, and you can have some very nice photographs. But if you choose a winter wedding and you are lucky enough to have snow on your big day, then you will have some amazing photographs. There is something about snow and a white wedding dress that simply looks divine and you will have a set of photographs that you will cherish for the rest of your life. Even the rain is a fantastic photo, and umbrellas can look really fun in a wedding photo.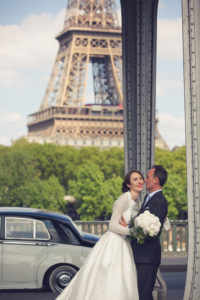 Go for a more intimate wedding
Do you want a smaller wedding but have difficulty deciding who to invite and who not to? Then, by having a winter wedding, you can make a smaller wedding a little more real, since some people will be more likely not to come to a winter wedding, particularly in a situation where they are elderly or have to travel from far longer distances.
Intimate weddings are the ultimate. And in the heart of Paris, it's totally possible. And winter in Paris doesn't mean you can't celebrate your day in elegant style!
After a few pictures around Paris, you can end your evening at a hotel like the Four Seasons George V Paris with family and close friends.
You can have more fun with the menus
When it's 90 degrees in your garden in June, the mere thought of a hot toddy probably makes you feel sweaty. What about that buttercream cake you love? It can, well, melt in the summer sun. In the winter, couples have more creative freedom with menus, and more control over temperature, allowing certain foods. Winter menus can be quite creative, and a lot of fun to plan. Couples who would like to marry during winter have the green light to expand beyond the typical chicken or beef choices.