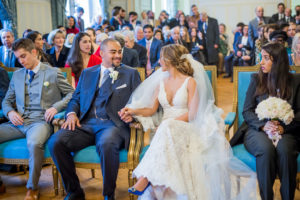 As featured on STRICTLY WEDDINGS
A great man once decided that a union between the two greatest empires that the world had ever witnessed would change the human race forever. This was the union of Alexander the Great and Roxana the Persian Princess. 2344 years later another Greek conqueror and a Persian Princess, Michel and Nona, will reenact this great union on November 25, 2017.
History has yet to tell us if their love story will change the human race but it certainly has changed their lives.
Their tale begins on a cold wintery Boston night on December 3, 2010. When Michel saw Nona walking down Cambridge Street. From this day forth Nona & Michel went on doing some conquering of their own, starting with the Italian mafia filled neighborhood of the North-End in Boston, later taking over the most powerful city in the world that decides the faith of world politics in Washington DC, to finally settle in Paris, the city of love.
They will forever have Paris …
From stunning city hall where the Bride had walked under the sounds of the violin to prestigious venue (Le Pré Catelan, an elegant Napoleon III-style pavilion just 5 minutes from the Champs Elysées, one of the most popular places in Paris with 3 stars in the Michelin Guide) their wedding was simply BREATHLESS.
The couple wanted to make sure they incorporated both their cultures and backgrounds. Their expectations were elegant, chic and royal and at the best venue of Paris, so they hired Inga from CTH Events Paris to help them plan their wedding, this day was very important for couple, each detail was respected, planning lasted for 2 years and 250 guests came from 15 countries!
For couple the most important thing during the wedding was to have a blast and enjoy the time with all friends and family. Special family traditions?
Yes we did, Michel had his fathers all gold pocket watched and I had my grandmothers gold bracelet and pendent on. We made sure we included both Iranian and Greek music in the wedding as those are our countries of origin.
The photoshoot with  tigres, jazz band,  cocktail bars with cocktails created especially for the wedding, photobooth, French cabaret dancers,  ice sculptures and champagne pyramid, smoke and fireworks during the first dance : all the entertainments were reunited for the successful wedding.
What was your favorite moment during the wedding day, Nona?
Gosh I cant say I had only one moment. The day/ night was just all so perfect! Some of my favorite would be when my mom and brother walked me up the stairs and down the isle, when Michel yelled at "oui" at the la mairie, the amazing little tigers at the wedding, my first dance, my dance with my brother. Like I said so many special moments its hard to pick one.
Nona advice: Be patient with each other – do not listen to anyone. Do exactly what you want to do, this day is about the both of you no one else. Your parents already got married this is your time!
Hire a wedding planner, they will propose to you things that you do not think of. Especially on D-Day you don't want to have be worrying about timing, food allergies etc. Our day / night was just all so perfect!