Intimate Wedding
Weddings can be celebrated from something big with hundreds of guests to a more intimate one with only the ones who are the closest and dearest to you. Anyway, you may ask yourself, what is considered an intimate wedding? Furthermore, how can you have an intimate wedding?
An intimate wedding ceremony is to celebrate your wedding with the least company possible. There can be some degrees for this concept, with a guest list of 25 people, or 12, possibly even the couple with their parents or simply the couple. It is a less chaotic event where you can feel at ease. The bride and groom will just prefer to feel as cozy and relaxed as possible on their wedding day.
There is something special about a small intimate wedding
The bride and groom will no longer feel overwhelmed by the thought of having 200 guests. Instead, they will have the chance to celebrate with the people who matter the most and this will additionally allow them to spend quality time with their family and friends. This is a very special day for the couple, and it is essential that they live this day at the most, after all, is their wedding day. They will feel more relaxed since they will be surrounded by friends and family making the wedding ceremony feel more "like home".
Just imagine, it's that special day, you arrive at the magic venue, the place where the ceremony will be held. Anywhere you look you are amazed at how everything falls right into place, with the exact decoration you imagined. But apart from that, you are absolutely happy due to the fact the people you see, are the ones you really love. Happiness is all around, and you couldn't be gladder to share this one of a kind moment in the proper place and with the right people.
Even though it is a small wedding, there are still some things you will have to check out in advance:
A smaller guest list
If you are thinking about planning your wedding ceremony with about 20 or 30 guests, then sometimes it might get hard to shorten the list, but then again, if you choose a small wedding you have to maintain a small guest list. Think about the people you appreciate the most and the ones you remain in contact with. Those are the ones you will have to invite.
But if you want an intimate wedding, it can be simply be done with you and your partner, what a better way to spend the day of your wedding with the one you love!
Choose a non-traditional wedding venue for your intimate wedding
Make sure to honestly love the entirety about the venue you are about to choose and be creative with your options. You have too many options, such as elegant castles, museums, hotels, galleries… Besides, in Paris, it is possible to find unique special areas in each and every corner.
Since your guest list will be short, you don't have to worry about the place, since any space will be perfect for you two and your closest friends and family. Although, we highly recommend something cozy for this kind of wedding.
Keep the basics in mind
Even though it is a small wedding, you will still want food, decoration, a bar, entertainment, and the service. Keep an eye on the details!
Also, think of what is important for you and your partner. For instance, if the music is important for you both, then you should give more attention to that, in any other case there is no need to opt for the best DJ or musicians.
Take advantage of the fact that it's a small wedding, everything can be more elaborate since you will have more control over the whole thing you must do.
An intimate wedding will be good for your budget
A small wedding ceremony or reception will surely allow you to manage it more efficiently your budget. When your guest list gets shorter, then your budget as well, and this is usually a good thing, since you do not need to go overboard with your budget. For many couples, this is the foremost reason why they do small weddings. By staying inside the budget, the money will be saved, and it can be used for your romantic honeymoon.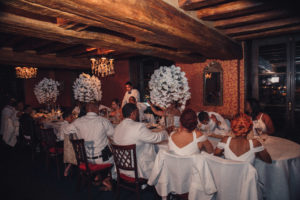 Process of planning an intimate wedding
You will have the time of your life at your wedding, be sure of that. Planning a wedding like this will always have outstanding results. Nothing can't be compared with the beautiful reception you will have with your loved ones. It will be a day to remember!
There is nothing small about an intimate wedding when we talk about the preparations.
Actually, it would possibly take even greater time to plan than a big one. So, get geared up to make out of that "small wedding" a big day.
Having a wedding in Paris can be the most beautiful thing you can experience, mainly thanks to the small intimate venues found in the city of love. Even though coming to France to have your wedding might seem like so much work, it is a worthy destination.
Concerning the process of planning, there are many matters to take into account. Even though it is a small wedding, the time spent planning it can be as much as a large wedding with a long list of guests.
A more personalized wedding
When planning a wedding with a shorter list of guests, you have to consider too many things. First of all, it is a wedding that will be even more personalized. The soon to be married couple will have more time to invest to make this one of a kind day the perfect day. So, they will like to incorporate their very own personal style. They will contact the wedding planner, even more, to make the most out of every detail.
They will work by investing time in choosing the decoration, the flowers, the dress, the makeup, and additionally arranging the transportation for the guests, the place where they will be going to stay, the photographers, choosing the right venue, the vendors…
The couple will have so many wedding ideas they want to make them real
The process of choosing to make the whole thing fall into place might be hard. Having a smaller guest count means every element will be more noticeable. Therefore, it is for certain that you want a harmonious decoration. For instance, determining the color palette can be tough, considering it is a small intimate wedding. It is important to choose the right one to prevent you from getting overwhelmed by all the options of colors that may come across. You will want for sure a decoration that matches your personality.
Another important aspect couples take into account is the transportation for their guests if you are planning a wedding in Paris, on account that most of them are not from the city. There are many options, from a shuttle bus to a vintage trolley. Or simply find the best transportation services in Paris that you can propose to your guests.
Choosing the right photographer is important. Each couple is different, and they will try to find the right photographer that matches their style.
Remember, having a small intimate wedding doesn't mean less work to do!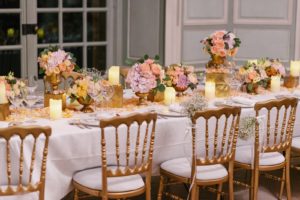 A wedding in Paris
If you come to Paris from abroad to have your intimate wedding it is highly recommended to hire a wedding planner. Someone that will help you with the whole thing such as the locations, furniture, florals, music, food, hair, makeup. By selecting everything you want in detail, you will have someone that helps you put everything together.
Even if having a wedding ceremony in Paris might sound big, you can nevertheless have a more intimate wedding with your closest friends and family. Your ceremony and reception will be breathtaking, every person will say that it was the best wedding ever. Paris is an incredible destination for a wedding where you can find amazing venues for all kinds of styles.
CTH EVENTS PARIS
With CTH EVENTS PARIS we will work with you all along the way. From selecting the ideal venue to the determination of the event design. We will consider everything once you establish your vision. Each detail you provide us, we will manage it to coordinate this flawless small intimate wedding. We help you arrange accommodation and transfers for you and your guests.
CTH EVENTS PARIS will accompany you through the months before your wedding day on the organization of the most beautiful day of your life. We make everything possible to make your wedding day as personalized as possible according to your desires by offering full service to make your dreams come true!