Wedding Outdoors – Advantages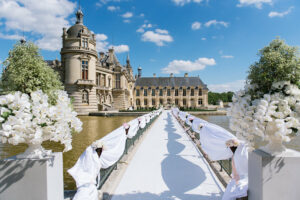 A forest, the countryside, the beach, or the incredible gardens of an estate, for example, will become the best wedding outdoors for the dreamed "I do".
And they invite you to celebrate the ceremony and the banquet in a single space, which will allow you to enjoy more time next to those who received your wedding invitations. But that's not all. The fact of being outdoors multiplies the options when it comes to original ideas for weddings. And can you imagine how beautiful all the photos that will integrate your wedding album will be in such a wonderful environment? The wedding dress and gown will shine in all their splendor! Are you ready to know many more advantages?
If you haven't decided on a location yet, I'm sure these advantages will make you want to have your wedding outdoors.
Although being honest on this subject… we have to comment on the only important inconvenience to take into account, we are talking about the weather because until now nobody can predict what the weather will be like on your wedding day well in advance. So you always have to have a plan B ready, i.e. tents, stoves, etc.
Goodbye to complications
One of the great advantages of celebrating a wedding outdoors is that you have more room for maneuver in terms of budget; you only need to choose a good location to enjoy many facilities. Most of the time it's a little cheaper in floral decoration because the places have landscapes and vegetative atmospheres. In addition to this, the expert also assures us that weddings in this type of environment give rise to more fun and not so formal settings.
You will enjoy the good weather
Although it is not an indispensable condition, it is normal for outdoor celebrations to take place in the months of spring, summer, and, depending on the place and how the weather is used to be, also in autumn. Whatever the case, the ideal situation is that the guests are able to do without their party coats and feel comfortable at all times. The cold should not make its appearance! But at the same time, it is also important to have a plan B in case of strong wind, storm, or even suffocating heat. So make sure that the space you have chosen has interior rooms with a nice view for such cases or a tent – any forecast is too little!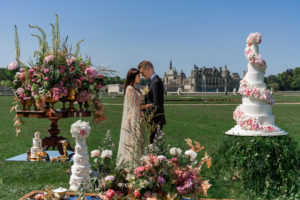 No need to travel
Many of these outdoor spaces also have an important advantage in that a ceremony can also be held with music for civil weddings in the background. And if you have chosen a place with a chapel, you can give yourself a "Yes, I do" accompanied by music for religious weddings without any problem. In this way, you will gain quality time on such a special day and you will reduce the number of trips. Maximum benefits!
You will be surrounded by a romantic atmosphere
Even if your location is in the middle of a city, the environment around you will surely fill the atmosphere with romanticism. Plants, flowers, varied ideas of decoration for weddings… there couldn't be a better setting! And depending on the time of day when the ceremony and celebration take place, you can even enjoy an incredible starry sky. It will be a cozy and charming environment.
Everyone, guests and bride and groom, can enjoy a more relaxed atmosphere during the ceremony and banquet where you can focus on the emotional "I do" and have fun. The outdoor spaces allow for distribution to your liking, a less strict organization, and a celebration with more freedom. In addition, if you are romantic, the spaces surrounded by nature are perfect to give a touch of the most loving celebration.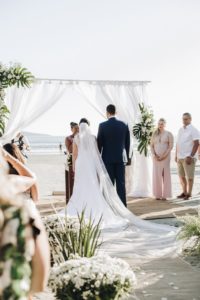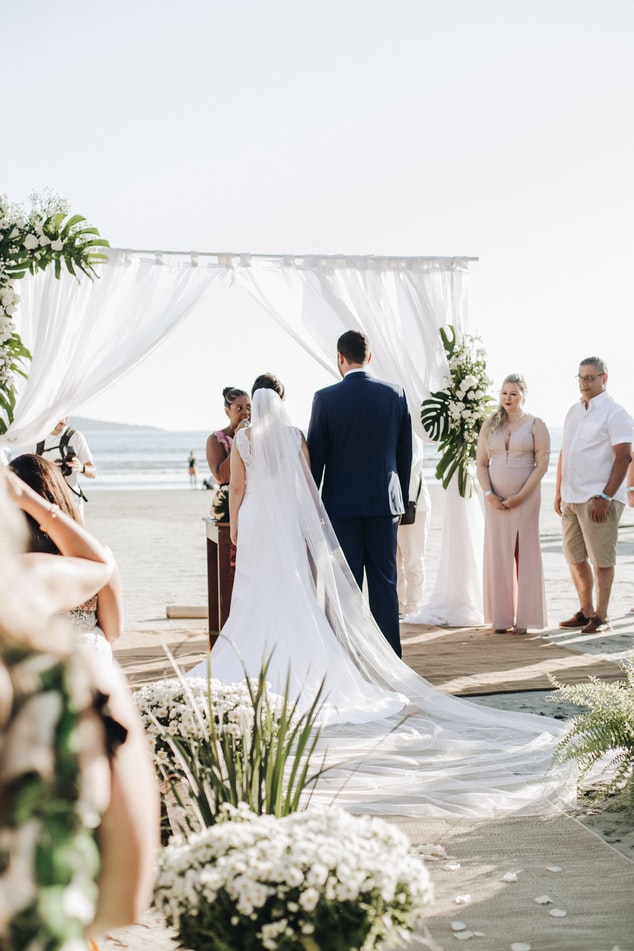 You will have magnificent views
The scenery will be incredible and will become the best backdrop for a dream wedding. Can you imagine saying "I do" by the sea with the soft murmur of the waves sounding in the background? Or do you prefer a mountain? The views from the heights will be fantastic. The same as if you choose a place in the countryside or the forest, surrounded by nature. The urban landscape that you will see from the terrace of a hotel in the center of your hometown will not be left behind either. Any of these views will make the loved ones who received your wedding invitations fall in love. You can be sure of that!
The photo session will be fabulous
The fact of celebrating your wedding outdoors will also allow you to do a photo session as a couple in the best possible scenario. The professional photographer hired will get some unique shots! Walking hand in hand, hugging, smiling, jumping, giving each other a kiss… Any of these gestures will take on greater meaning in a natural setting. The colors and light will be spectacular. As well as the photographs with friends if, among the ideas for the photos, you bet to dispense with the background and the landscape becomes the most magical scenario you can imagine.
Considering all these points, you will enjoy a wedding like no other and you will want to remember it forever. Therefore, what better than some wedding photographs in an outdoor area with natural light where photographers also immortalize the most special corners?
The aperitif and the banquet will be surrounded by nature
The shade of the trees, the seating plan hanging from the branches, the garden areas, or the lighting with rows of suspended bulbs, for example, will be perfect to create a relaxed and pleasant atmosphere in which to savor delicious recipes. The incomparable setting! Even the sweet ideas for the candy bar will be much more appealing in this space.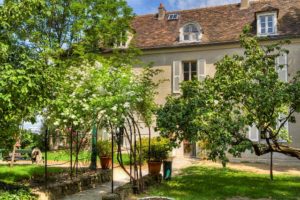 Cocktail hour
Imagine quietly drinking a delicious cocktail served by our staff while nature envelops you. While it is true that when the heat is tight, eating out is not too pleasant. After the cocktail, we go inside to enjoy a perfect meal in our cool room. Having a wedding outdoors truly has many advantages.
The children enjoy it more
Children enjoy the outdoors in spaces close to nature. At an outdoor wedding, they can play quietly near their parents and have a great time.
The decor will blend in with the surroundings
The personalization of your wedding is one of the main factors to make this moment more personal and different. Outdoor space allows you endless ideas to create a concept, from a country theme to a classic wedding.
In an outdoor wedding, the natural elements will not be lacking. Wood will be a must for all types of weddings, just like shells or starfish if you have chosen a seaworthy celebration. You can't do it without plants and flowers, which will harmonize with the natural bridal bouquet. Achieving the maximum harmony will ensure you a result of 10.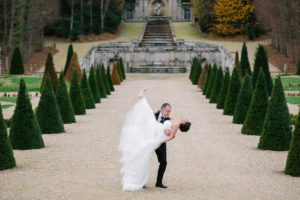 Natural environment
Having a wedding outdoors, is a perfect idea to take advantage of the natural elements in your environment. If you are getting married in a garden or a forest, use the trees around you and put different decorative elements in them. Good wedding decoration in a garden will take into account light bulbs, garlands, ribbons, flowers, lights, candles, and much more. You can also use stones or rocks. And, of course, flowers are a must. Find the ones you like best and fit your ceremony and place flowers at strategic points that will turn the setting into a beautiful, romantic, and mystical place.
If you have finally chosen a location near the sea, it would be beautiful and appropriate to use your surroundings to your advantage: seashells, rocks, the sand… Everything will create an idyllic setting that will amaze those present, especially if your ceremony takes place in the afternoon. Can you imagine seeing the sunset on the beach on your wedding day? And then being able to lie down on the sand and watch the stars? It's very close to paradise.
In short, outdoor weddings are an option that more and more people are choosing to put into practice, as they promise a perfect and dreamy day. With these tips we have given you, you will surely have a successful ceremony.
Enjoy a unique environment. Enjoy a personalized wedding full of magic. No matter what outdoor space you have chosen, you will live a perfect day. Perfect will also be the practical wedding details for your family and friends, and each and every special moment of the day, such as the exchange of wedding rings, the entrance to the banquet, or the delivery of the bridal bouquet. Congratulations to the lovely couple!