Yes! And hearing behind you the applause of your guests as they celebrate with you and your partner such a special date is what makes this wonderful experience unique.
Now, can you imagine this same situation but in a heavenly place, like everywhere in France? This is why a destination wedding is the best.
A luxurious Parisian hotel, a private beach, a magic castle or a place in the middle of nature can be a true paradise to put an engagement ring in your life. But also, the setting of a very special wedding. In the photo albums of a destination wedding, couples always appear with happy faces when they hear their thoughts of love. They are engaged in their modern wedding dresses and guests having a great time.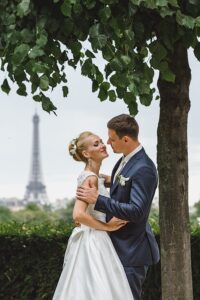 What is a destination wedding?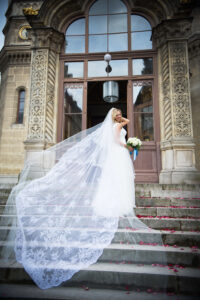 A destination wedding is one in which the bride and the groom decide to get married in a different place than where they and most of their guests live. This type of wedding implies a displacement for both them and their guests. The destinations chosen are usually places with great architectural, historical, or natural beauty, either in their country of origin or abroad. That is why Paris is the perfect place to come for your destination wedding.
The celebration usually lasts from two to four days, depending on the desire, budget, and time availability of the couple. Generally, as a reception for the guests, there is usually a party or a gathering on the wedding evening. Then, the day after the wedding there is a turntable. If there will be a double ceremony, it is often decided to celebrate the civil and religious marriage on the same day to optimize time, although this is not always the case.
Destination weddings are trendy?
Destination weddings are trendy because they are an extraordinary and very pleasant experience for everyone. They are framed in places with wonderful scenery, become intimate celebrations and translate into an unforgettable holiday where everyone will celebrate the love of a couple.
In addition, for the bride and groom, it can be a two-in-one, as they can take advantage of the trip. So, to not make another trip and have their honeymoon there. If this is your case, don't forget to pack, along with your wedding dress and suit, a cocktail dress, swimsuit, or camping boots, depending on your destination.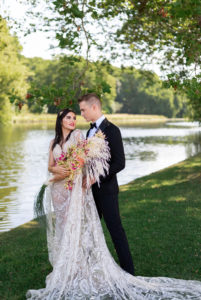 Where and when to hold a destination wedding?
In addition to incredible destinations in Paris, France has wonderful places to celebrate dream weddings, due to its vast cultural and natural wealth. As love is born from sight, consider in your search, besides the city of love, ancient cities, vineyards, castles, historical buildings, and magic villages. Everything will depend on your tastes and budget.
Before making the choice, you should consider that a destination is an accessible place for your loved ones. Choose a month of the year with a pleasant climate (May, June, July).  Maybe in a weekend or holiday bridge so that all your guests confirm. The toast is as complete as possible and the fight for the natural bridal bouquet is crowded.
Choosing the destination of your wedding will involve extensive research. To feel less pressure and be sure that a professional will help you to have everything in order, the most practical thing is to delegate the organization to a wedding planner. Although you will have to make some trips to the destination location, a wedding coordinator will take care of helping you with the necessary paperwork, decoration, setting, finding local suppliers, or whatever you need.
You can also find the option of hiring a hotel for a complete package that includes the ceremony, the banquet, the celebration, lodging, and tourist activities for the guests. As with everything, costs and services vary greatly from one place to another.
The basic five
The foremost important thing to consider when arranging a destination wedding can be summarized in five points:
Choose a destination of your choice and easy logistics. Take into account that there are enough wedding locations to choose from, professional wedding suppliers, the costs and times of transfers, and the air and land connectivity of the place are manageable and that there are hotels available for different budgets.
Be considerate of the date. Seek a balance with the agenda of those who want to accompany you. If you are celebrating for a weekend, a long weekend, or during the holiday season, this will guarantee the arrival of more guests; but on a very busy date, the prices of services and transfers and accommodation for family and friends will also skyrocket.
Ask for quotes and define a budget that is as realistic as possible.
Draw up a list of your closest and most important guests.
Evaluate the possibility of hiring a wedding planner. Of all the wedding plans, identify which ones you think will be difficult to carry out from a distance. Then, put a price on the convenience of having someone take care of it from the same destination. A wedding planner can be an essential part of these cases.
Have you ever imagined yourself in your short wedding dress in the South of France? Or in a luxurious hotel in Paris? It's time to talk about it as a couple and get down to business. Try to make a decision with enough time and don't wait until the wedding invitations to tell your loved ones that you will be marrying outside the city. Save the date as punctual as you can, this is always appreciated. Friends and family will be happy to accompany you to your party. To the beach, to the forest or wherever you are going to promise each other eternal love. It will be an unforgettable experience.
Your wedding planner is your best friend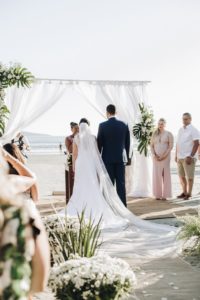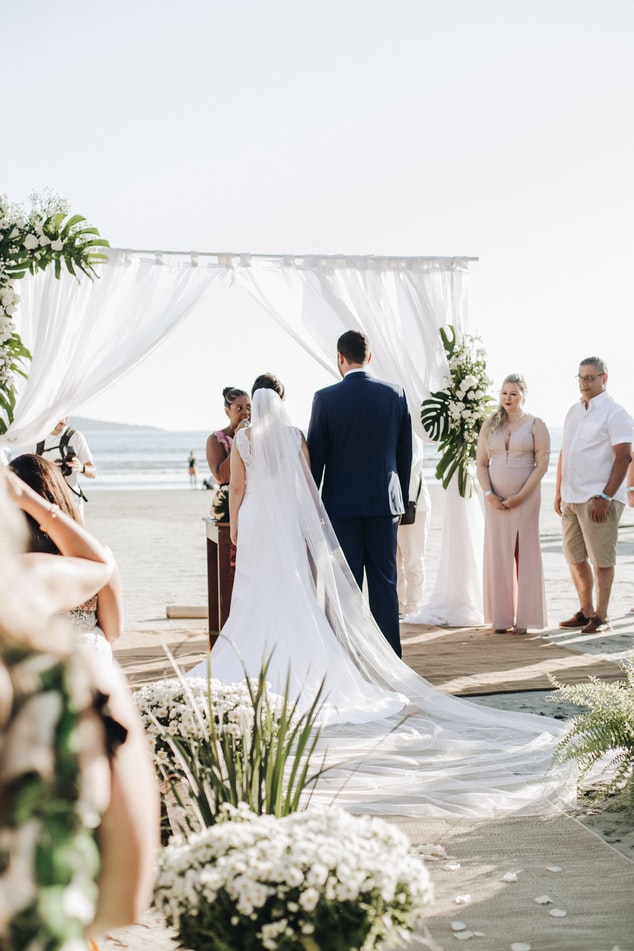 Have you heard of them? If you have thought or decided to get married outside your city or country, to share an unforgettable celebration with your guests, you have definitely chosen a destination wedding. Does it sound fun and different to you?
Keep in mind that to carry out everything you need to research. Prepare a wedding budget, present different options of the place, ceremony, decoration, audio, lighting, video, musicians, DJ, food and beverages, photography, image consulting, etiquette and protocol, and even the choice of dress. So, with the advice of an expert, you will avoid headaches.
A few tips:
The sea, the mountains, and nature are key elements to save on decoration and become the setting for the celebration. It is very important to get special rates for your guests in advance. It is also important to coordinate the logistics of flights and transportation.
Make an event a day before the wedding. For the day after the celebration, we recommend having a brunch or lunch. Consider giving a reminder of the welcome kit at the hotel with the description of the bride and groom. Other details that have to do with the chosen destination can be given as well.
Don't forget to interact with the guests and the place
It is always better to hire suppliers with experience in this type of celebration, as they will anticipate solutions to the inconveniences that can occur when not in a known place. And remember that your guests are part of the wedding and the destination. So coordinate activities before or after the wedding that allow you to enjoy the place even more.
It also takes advantage of and interacts with local artists, foundations, and tourist attractions. And most importantly, the visit to the place becomes an opportunity to learn about the destination, the customs, the culture, and thus be able to leave a nice memory with the guests.
Create a wedding page or Facebook group to keep in touch with your guests.
Information, updating, and communication are key on this occasion. Places, hotels, prices, schedules can change, and your guests need to know. Before, this was a bit complicated. Now you have the advantage that most people have access to social networks almost all the time. So reporting any changes or news is as simple as typing and clicking to post.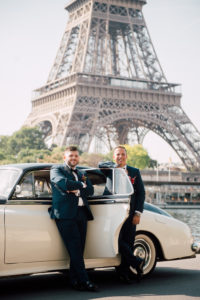 Plan transportation for the day of the event
Remember that your guests will be foreigners. So they will not have their own transportation to get to the location where your wedding will take place. We suggest that you hire private transportation. Therefore, under an agenda designed with your planner, picks them up, and return them to their hotels once the event is over.
Il est très important que les horaires soient établis et respectés. Si cela ne se produit pas, certains invités peuvent être bloqués dans les hôtels et ne pas arriver à l'heure pour votre mariage.