You just got the most romantic proposal, in a beautiful place like Paris, and you said "yes!". Before telling the incredible news to all your friends,
this is what you have to do first after you just got engaged.
Celebrate
Before telling your family and friends, take a moment with your fiance! Head to your favorite bar and if you're in Paris, one of the best rooftops in the city for a glass of champagne, or if your partner thought of the future, take out that bottle of champagne that he brought in anticipation of a "yes". You'll soon be caught up in wedding planning, so enjoy yourself this time before letting everyone else know your good news.
Take your time
Don't get involved in wedding planning right away. Take a week or two to let the news really come and just savor the moment. Trust us, you will have enough stress for the next twelve (more or less) months to last a lifetime.
Share the news
You may want to let people participate in your engagement as soon as the ring slips onto your finger. Or maybe you want to keep the moment private a little longer. However, if you share the information, even if you deviate from tradition, you should first inform your parents (preferably in person, if a phone call doesn't work, but not text messages!), And then to other family and friends. If you're on vacation abroad when you get engaged and want to share the news before you get home, try finding Wi-Fi so you can Facetime to share the news.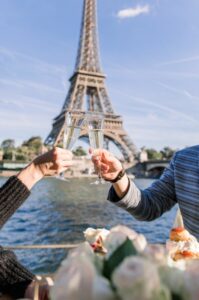 Engagement party
(If you want one) Do you want to plan it or hand over the reins to your parents or friends or you want to go discreet and have it at home or in a friend's garden? Do you prefer that everyone meet at your favorite bar for a drink or rent a space for dinner in a restaurant? Either way, just be sure to do what fits your relationship environment.
Before starting to plan your wedding, throw a surprise engagement party if you prefer to announce your news to friends and family all at once. Or, if the news has already been told, most of the time, the parents of the couple or their closest friends will host the event. And keep in mind: the ones you invited to the engagement party should also be invited to the real wedding, so be wise with the planning.
Secure your engagement ring
We know, we know, it's not exactly the most romantic or exciting thing in the world, but it could end up saving your butt in the long run. When added as an extension to your landlord or tenant's insurance policy, it is surprisingly inexpensive.
Be sure to talk to an insurance agent about coverage in case your ring or stones ever need to be repaired or replaced. First, get an evaluation from a certified independent gemologist; Most jewelers will provide this service at the time of purchase and will ensure that you understand all of the terms of the policy. Find out if it is covered if the ring is lost, stolen or damaged, what stipulations there are, if any, and how long the claims process takes. You may be able to add a jewelry rider to your owner or tenant's current policy; if not, establish a separate policy.
Prepare a budget
Before making any wedding decisions, you need to figure out what you have to spend and whether your families will contribute. You have to be certain that you agree with your fiancé on your priorities before telling your parents concerning budget and logistics.
Wedding guest list
Once the budget is established, find out who you are going to invite to your wedding. If deciding who is to come (and who isn't) threatens to bankrupt you or start a war with your families, back off. When you don't know anything about someone, consider whether or not you would invite him/her over to your house for dinner, otherwise, don't invite him.
Think of everything
Imagine the type of wedding you both want, perhaps it is the event of your childhood dreams or one that reflects your current tastes. Even if you're at a formal ballroom event, considering other possibilities, like a seaside ceremony or a Sunday brunch, can change your mind or reinforce your choice. The same is true for selecting the time of day and mood of the wedding.
On the other hand, wedding dates and the most desirable locations are booked well in advance, so if you're hoping to get hooked in the next year or two, it's a good idea to start thinking about dates now. Find out what works for both your families and if there are potential conflicts.
Choose the venue
Now that you have your budget and guest list established, it's time to choose your wedding venue. The place where you can get married can dictate a lot about the wedding, from the date to the dress code. The key is to look far and wide, and follow the advice generally given when searching for your wedding dress: "Try on" different options, not just the one you think you want. You never know what you are going to like more.
You can choose from going to a beautiful French château, a luxury hotel or on the beach. A wedding in France is the best thing to do, and if it is in Paris, even better, nothing like getting married in the city of love.
With every place you go. Get an EXACT idea of what the wedding will cost at each location, so you can properly compare them to each other. If you include some things in your estimate, but you lack others, ask for them. If you find a place you trust, tell them the number you need to keep the wedding going and ask them honestly if they can do it.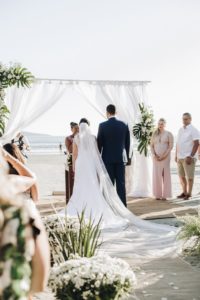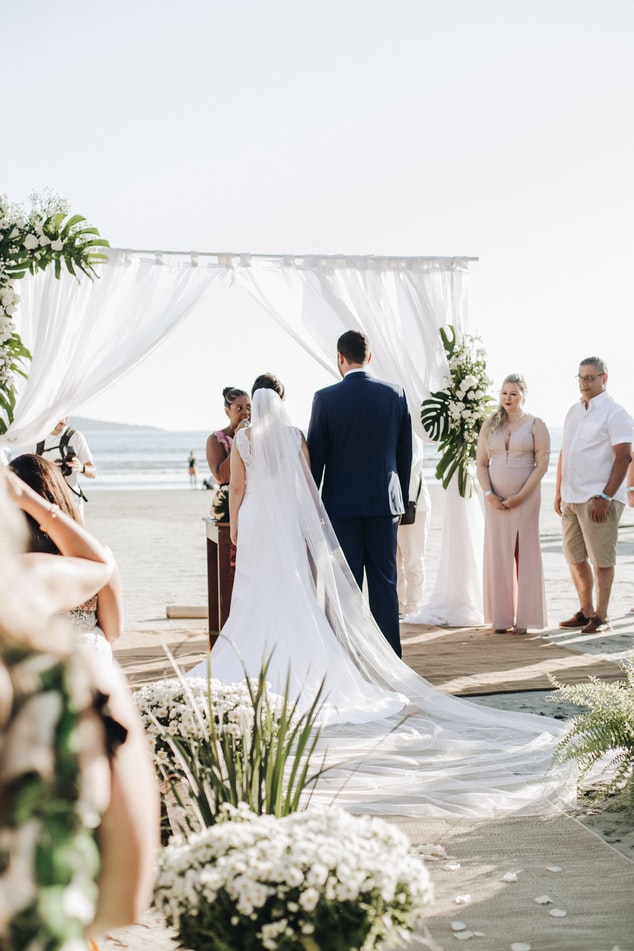 Save the date
Once word gets out, expect lots of questions, including "When are you getting married?" If you have got already a date for your wedding ceremony, tell your friends, otherwise, let them know you are planning it, especially if you wish to celebrate your wedding at a specific time of the year like a holiday. It is important to book early, maybe a year in advance the place, photographers, caterers…
Presents
As soon as people find out about your big day, the gifts will probably start arriving. It's never too early to sign up, not just to make sure you get something you like and need, but also to make it easier for friends and family what to buy you. Even if you don't sign up for everything right away, at least go to a store and decide a few things for your list. Try limiting your registration to three places (ideally, two national stores, and one local store). It will be way easier to handle it this way. And, in case you don't get everything you left, many stores will keep your registry active for a few years.
Get inspired
Create a board on Pinterest, a drive on Google Doc, save photos on Instagram, or create a folder on your computer to compile photos of your favorite wedding items. Keep it for organizational purposes only, or share with your wedding planner, mom, friends, fiance, and anyone else to see and contribute.
Wedding planner
If you're considering bringing a professional planner on board to help you with logistics and decorating, ask for references and do some research online, then schedule some interviews. Just for vendor references, a wedding planner is worth its weight in gold.
Engagement photos
Engagement photos are important because first, it is so much fun and how often can you take nice professional photos with your future husband? And second, because these are the photos that you will use throughout the entire wedding planning process: from your wedding website to the save date, decorating your bridal showers, engagement party, etc.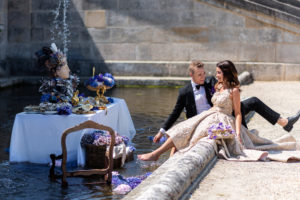 Website of your wedding
It's so creative and fun, and the websites that exist make it so easy to plug and play and create an AMAZING website. And the best part? They are all FREE! The only cost is to create a custom domain, which is highly recommended because it only costs $ 14 to buy a domain name and having yournames.com is a lot of fun.
Have fun
Do something fun, just the two of you. Mini golf, bowling, ice skating, a trip to the beach, whatever floats your boat, and takes out the child inside. Wedding planning can be extremely stressful from the start, so try to find the fun side in things and take time to laugh, reconnect