What could be more elegant and romantic than a wedding in Paris? With the rise in popularity of destination weddings
and the thriving hotel industry serving them, Paris has become as viable a destination option for newly engaged.
Incredible churches, amazing luxury hotels, and last but not least, French food and French wine … if you get married in Paris, you are probably looking for the best. Go to one of these wonderful wedding spots to take the photos that you will proudly show off to your grandchildren in 50 years.
Welcome dinner
A welcome dinner is an opportunity to literally welcome your guests to your wedding and give them an idea of what is to come. It usually ranges from a cocktail reception at your favorite bar to a barbecue in the backyard. In this case, we recommend a welcome dinner at the famous Parisian restaurant Lapérouse.
In the 6th arrondissement of Paris, this legendary restaurant with gastronomic cuisine has been looking at the River Seine since 1766. If you are looking for classic Parisian style, look no further than this historic restaurant, it will delight you.
Generally speaking, you will want to throw a welcome party with all your guests, especially if it is a destination wedding.
If you have room in your budget and want another opportunity to spend time with your loved ones, do a welcome dinner. Just be sure to keep it fun and informal so guests don't feel obliged to hang out all night. They may be tired from traveling and want to go to bed early or take quiet downtime before your big day.
Rehearsal Dinner
The rehearsal dinner is usually smaller. It is a more intimate gathering with the bridal party and close relatives, which makes sense since it usually follows a ceremony rehearsal. During dinner, friends and family gather to offer a sincere toast and share a delicious meal.
The rehearsal dinner has a smaller guest list: it will invite the bridal party and its dates, its immediate families, and anyone who is not out of town, as long as it is not a destination wedding, in which case everyone would travel.
After your wedding rehearsal, you will invite everyone who participated to make this dream come true. To celebrate the upcoming ceremony, you will be able to spend time with everyone who helped make the day possible. This is also a good time to thank your parents and the wedding party for all they have done. The event need not be overdone. After visiting your ceremony location, plan to dine at a favorite local restaurant. As for the decoration, try to keep it simple. Try to have a nostalgic décor at the rehearsal dinner. Use family photos throughout the space and even in centerpieces. Include photos of past weddings or family reunions.
Both the rehearsal dinner and the welcome party should take place the night before your wedding, but you can combine the events to work for your schedule. Rehearse your wedding and rehearsal dinner with your bridal party and family, then meet up with the rest of the guests in an open after-dinner invitation for dessert and drinks.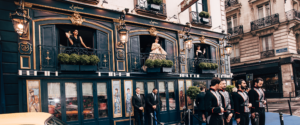 Ciel de Paris – Espace 56
Ciel de Paris, which means Heaven of Paris. It is the name of this unique place for the simple reason that it is located on the 56th floor of the Montparnasse skyscraper. This wedding venue could provide you with the most beautiful views of Paris.
This is the highest panoramic performance hall in Europe. You will enjoy splendid views of the Eiffel Tower, the Louvre, the Sacré-Cœur, Les Invalides el Seine and Paris as a whole. The modern and very elegant lounge offers space for up to 300 guests. Along with the beautiful interior lighting, this venue has become one of the most romantic and sought after venues for a Paris wedding.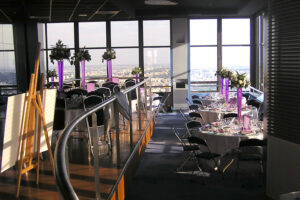 Paris Seine
The Paris Seine fleet puts at your disposal its 3 different boats and arranged for a great wedding on the water. The view will surprise all your guests, immersing them in sleep with you for a cruise to the rhythm of the splash of the waves and the most beautiful monuments of the capital that will parade before your eyes. Each boat has a terrace that will be more pleasant to have a cocktail "feet in the water", admiring the city of lights at dusk. You will keep fabulous images of this unique day during which the entire Paris Seine team will take care of you to spend delicious moments.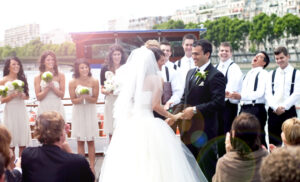 Here some venues for your wedding ceremony:
Shangri-La Hotel
Known as one of the most elegant hotels in Paris. The Shangri-La is the ideal location for a wedding in Paris. They have a terrace on the first floor with incomparable views of the Eiffel Tower and the toits de Paris. They also have exclusive suites that can be booked for small receptions, some with amazing views. The Shangri-La is one of the most beautiful photography hotels too, with an impressive staircase in the lobby. As if this were not enough, the staff at the Shangri-La is helpful, courteous, and friendly and will be the highlight of your wedding day.
Christophe Moret is the star chef of the gastronomic restaurant, called l'Abeille. On the other hand, the hotel's wellness center is the perfect place to relax for the bride and the groom. It has a swimming pool of 15-meter-long and Carita. Various personalized options are also offered, from arranging the bridal bouquet and groom's buttonhole to bridal beauty services.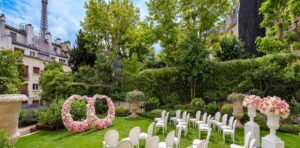 Château Vaux-Le-Vicompte
This is one of the most beautiful castles not far from Paris! It really feels like a fairy tale! It offers formal gardens and during the night, they light 2,000 candles. And wait, there's more, they also have horse-drawn carriage rides and a fireworks display.
Vaux-le-Vicomte Castle, an idyllic setting steeped in history, stretching for 4 kilometers. Antique furniture in reception rooms available for private rental. The formal gardens, located around a perspective of more than 3 kilometers, cover 40 hectares. Lit by 2,000 candles and sprinkled with magnificent fountains, specifically an incredible atmosphere. Celebrate your wedding in true style – arrive by helicopter, then enjoy a horse-drawn carriage ride, an opera concert, and a fireworks show.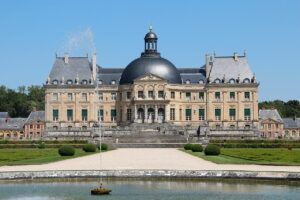 Peninsula Hotel
Peninsula Paris has two function rooms that are perfect for organizing a wedding. La Rotonde, with an area of 87 m², is a magical space full of light, is the ideal place for an intimate ceremony from 40 to 100 guests for cocktails. The 172 m² Etoile Ballroom is soundproofed, making it the venue for a DJ dance party until the wee hours of the morning, and can accommodate up to 110 guests for a casual dinner. Your wedding will feel very Parisian stylish and glamourous with its high ceilings, sumptuous decoration, and floral arrangements.
The couple will enjoy a night in an incredible room out of charge, with preferential rates for rooms for family members at certain times of the year. The hotel has 6 dining options, like L'Oiseau Blanc, located on the sixth floor, with a summer terrace that offers a breathtaking view of the monuments of Paris. The restaurant serves French cuisine made with products selected by chef Christophe Raoux. It is a very special place to have your wedding in Paris.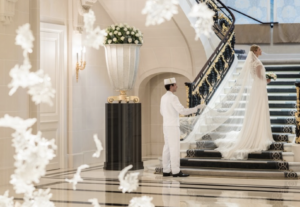 Château de Chantilly
Only 50 minutes from Paris, the magnificent Chantilly castle. It is also open to the public with incredible artwork and a long history. It is known as one of the most beautiful pieces of French cultural heritage. The castle was built for Henri de Orleans, son of the King of France, Louis-Philippe, and presented his collection of masterpieces. The castle currently has the second largest collection of ancient paintings, after the Louvre.
The gardens are heavenly for a wedding ceremony nestled amongst the greenery. The Isle of Love is a more English garden, while the classic French gardens offer an arrival on a romantic bridge. Both are equally special, offering you excellent options.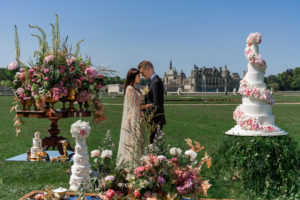 Ritz Paris
Among the famous wedding venues in Paris, we cannot forget the Hotel Ritz in Place Vendome. Ernest Hemingway and Coco Chanel's favorite hotel has nine function rooms and a beautiful garden that you can use for your Paris wedding. The hotel is popular with Hollywood celebrities. It finally reopened after a four-year, € 200 million restoration in June 2016. The elegant interiors of the suites perfectly combine exquisite fabrics, precious materials, 18th-century style furniture, and cutting-edge facilities. Each suite is individually decorated. On the hotel grounds, guests can savor the best French cuisine in the famous L'Espadon restaurant. There is no doubt that a Paris wedding at the Ritz will be exceptional.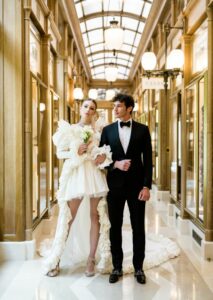 Le Meurice
Le Meurice, ideally located opposite the Jardin des Tuileries, offers bridal couples the use of their prestigious royal suite "Belle Etoile". The suite is located on the seventh floor of the hotel and offers views of the rooftops of Paris and the Louvre Museum, with wonderful 360 ° panoramic views of the city. The 250 m² suite extending onto a 300 m² terrace is perfect for an exclusive wedding with up to 8 guests.
The hotel also has 3 connecting reception rooms on the ground floor that can accommodate up to 500 people.
The "Meurice in Love" package gives lovers the opportunity to pamper themselves before the big day (beauty and spa treatments, a manicure, and a makeup session).