Proposal in Paris
Paris lockdown is coming to an end, all the bars and restaurants are starting to reopen and there are more people on the streets. Little by little, we are being released from this quarantine all around the world, and with that people are getting crazy to do the most romantic wedding proposal ever.
Paris, the city of love
Some say that Paris is known as "the city of love". Maybe because it has been the setting for romance novels and movies, or maybe it is because of the beautiful places we can find in this city such as all the bridges that go over the Sena river like the Pont Alexandre III or the Pont des Arts.
There is also the famous Eiffel Tower, the neighborhood of Montmartre, the streets and corners of Paris with cafés, boulangeries, and creperies, the Notre Dame cathedral or simply the language, it may seem like a cliché, but the sound of the French language is certainly hypnotic and romantic. Even saying I love you in French is stronger: "Je t'aime". So, why not make your marriage proposal in "the city of love"?
Here a few ideas of places to propose in Paris and places where you can go to celebrate the engagement:
You are about to take a huge leap in your life. Possibly you will be a little nervous but as well you wish that everything will be perfect. The most important thing is that this moment stays in his memory forever and, of course, hearing "Yes" as an answer.
Paris is full of magical places to ask for marriage. The first thing that comes to mind is the iconic Eiffel Tower, of course, it is a symbol of love, however, if you want something less traditional, the possibilities are endless.
Eiffel Tower
The Eiffel Tower is the symbol of Paris and the symbol of love in many places in the world. There are many places with beautiful views where you can pop the question.
Yes, there is only one Eiffel Tower, but there are many places where you can go and have it right behind you. The most famous place to go to make this surprise proposal is la place de Trocadero. Although, this is the busiest place in the city, even at dawn.
There are other very nice places like the side gardens, the lower part of Trocadero, the Big Hakeim bridge, or the Debilly walkway where you can ask for your hand with a beautiful view of the tower without having to worry about the million tourists around you.
If you are looking for a more private and intimate place to propose, the Avenue Camoens has a beautiful view of the tower. It is a dead-end street in a residential area.
Hotels
There are a few elegant hotels such as The Peninsula or the Shangri-La. The first one allows you to reserve a secret table that is located on a private terrace with the best view and only for you. And in the second one, you will feel like royalty! It is super luxurious, and you can have a private terrace from your suite where you will be able to pop the question by showing that amazing engagement ring.
You can also propose on top of the Eiffel Tower. If you do it there you will be able to contemplate incredible views of the city of Paris or you can plan to go later for your engagement celebration since it has different restaurants.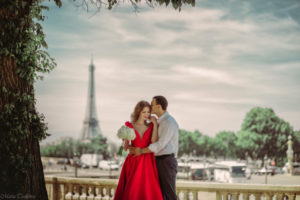 The Louvre
Paris has many museums where you can go and pop up the questions, although the Louvre museum is a top place to propose. If you want this moment to be private it is recommended to go at dawn, at any other time of the day it is full of tourists. Keep in mind that the museum opens its doors from 7:00 AM, that is to say, that in summer even when there is light from 5:30 AM, you cannot access the square until after the barricades are removed. Another option is that you make your proposal in the back square in one of its corners or with a nice door in the background.
Tuileries Garden
If you like French gardens with the trees perfectly cut geometrically, this is the place for you. It has a perfect combination of nature and architecture, where you can find sculptures, flowers, trees, and different perspectives of the Louvre museum: simply spectacular. This place is very lovely because although the photos say "Paris", they have a much more authentic atmosphere.
Luxembourg Gardens
This is another wonderful option, not only because the gardens are amazing, but also because Odeon is a beautiful area not far from the gardens. It is full of small intricate streets, old doors, fountains, and very Parisian shops. If you want an atmosphere out of the ordinary with a more bohemian atmosphere, then this place is for you.
Notre Dame Cathedral
An outstanding place in Paris. The back of Notre Dame is different from the front for its unrivaled Gothic architecture which gives it a lot of character. So, depending on your taste you can choose one of them.
This cathedral is located on the river, and it can be seen from the left and the right bank of Paris. The view from both sides of the river is wonderful and the mix of water and architecture seems just great. Aside from the cathedral, you have the whole area of the Latin Quarter with little streets, doors, cafés, and super authentic and Parisian bookstores and, on the other side is the Saint Louis Island area with beautiful places for engagement photos.
The Sacré-Coeur Basilica
 This place, although very beautiful, is very, very, very busy; so, you have two options: you propose at dawn or you pop the question at the back of the church.
Montmartre is one of the most beautiful places in Paris, full of very picturesque little corners, little streets, and cafes.
In this area there is the famous wall of "Je t'aime", there is a space in the area of the city, where the motives of love are conjugated in every language. This can be a symbolic place to make your proposal.
Parc de Seaux
Super recommended! In the morning it is super calm, you have many wonderful perspectives, a chateau, a beautiful French garden, and a spectacular lake. What I am telling you is that going there for less than 2 hours is not worth it, ideally 3 or 4. The place is very big and to cover it as it should be, you need time without running around the park.
The perfect photoshoot for your proposal
If you are thinking about popping the question in Paris, a photographer for your marriage proposal in Paris is all you need to keep memories of this special moment. Paris is the perfect place to do a photo session and hire a photographer that will follow you everywhere you go. They will capture those special moments you will share with your loved one.
Dawn is the best time to ask for marriage in Paris.  I know what you are thinking, it can be suspicious, but you just have to be creative to get your lover out of bed earlier.
You can say that you are going to take a super elegant cruise with brunch by the river, or say that a friend recommended you taking photos at sunrise, or even that you just want to take a walk in Paris by yourself and watch the sunrise. Whatever the excuse, believe me, it's worth the early morning.
But why so early in the morning you may ask
Well first of all Paris is one of the most touristic cities in the world, if you want privacy and have a special moment, dawn offers you a much more intimate moment with your partner. Besides, you don't want millions of tourists in the photos of that special moment. Asking proposing in Paris is one of the events that will change your life forever and the memory of that moment will stay with you as long as you live, so it should go well from the beginning.
Another thing you might be thinking is that how do you do to tell your partner to dress up without being suspicious. Well, you can make two sessions, the first one will be the real proposal and the second one where you can cover all your favorite places in Paris.
For the second option, you will have the time to prepare yourselves, change your clothes, hair, and makeup. This is a very popular option because no one wants to miss out on coming to Paris and taking engagement photos in one of the most beautiful places on the planet.
Hopefully, you can come to Paris to pop up that special question in any of those magnificent places mentioned before.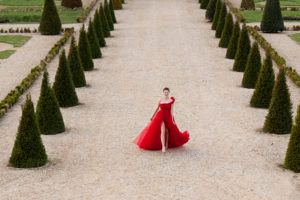 The perfect French proposal
It depends whether where and how you want to propose. There are many options for this one!
From proposing in front of the Eiffel Tower to a calm park. There are still some things to take into account to make that proposal perfect. Bringing flowers is always a good option. You can arrange them so someone will bring them to you.
If your lover is a romantic person, there is nothing better than giving a bouquet of roses, perfect for the engagement, and to decorate the area with petals. If your partner is impulsive, there is nothing better than a bouquet of orchids, since these will combine with her sense of adventure.
Also, these flowers will tell your loved one how much you appreciate her and how much you want her to be with you for life. If your beloved is out of the ordinary, perhaps a bouquet of red roses is not enough. For this reason, tulips will be perfect for her, since they symbolize eternal love, sophistication, and elegance.
If you want to add something extra, chocolates and macarons are always a good choice. Nothing better than a sweet treat in the sweetest moment of your lives. And if you want to be extra romantic, you can hire some musicians, like violinists to perform a symbolic song for you both.
After accepting your proposal, why not go celebrate and drink some Champagne. As we all know, Champagne is essential to commemorate great events, and what a great event this will be!
See more: Honeymoon in Paris
See more: Pre-wedding photoshoot