Honeymoon in Paris
There's nothing like strolling through the stone streets of Paris with your new husband on your honeymoon. Cafes, museums, and fashion shops in the capital … There is an infinite of things to do
anywhere in this city. This means that if you have not planned your days ahead, you may feel overwhelmed when you arrive in Paris and not know what to do. The best choice you can do is your honeymoon in Paris!
We've put together a list of places and activities you can do during your honeymoon that Paris has to offer.
You can choose a luxury hotel for your stay at the 1st arrondissement. During the day, then head out to eat at the city's most coveted restaurants, rooftops and cafes. Visit French castles. At night, drink cocktails in amazing bars.
Of course, your Parisian honeymoon is not just about exploring the city, it's about creating your first memories as a married couple. What better place to start than in the City of Love, full of romantic corners designed for lovers. Whether you comply with all our recommendations or just a few, you will surely leave Paris more in love with each other.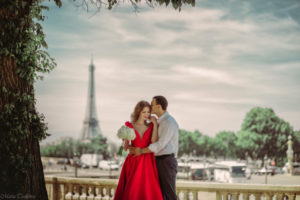 Where to stay?
Four Seasons Hotel George V
The Four Seasons Hotel George V epitomizes the elegance of Paris with its private terraces overlooking the capital. A few minutes from the Arc de Triomphe and therefore the Champs Elysées. The atmosphere of the neighborhood is unique; you will realize how magical the "City of Lights" is. Parc Monceau is also a few minutes walk from the hotel; What a romantic landscape to stroll as a couple in the capital!
Address: 31 Avenue George V, 75008 Paris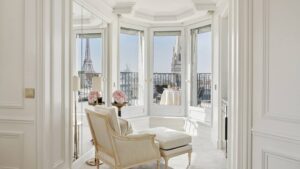 Hotel des Grandes Ecoles
The location of this hotel is a secret kept by its guests. In the most historical part of the Quartier Latin, there is a beautiful garden where hidden behind imposing wooden doors, the Hotel des Grandes Ecoles awaits those who discovered "the secret". All rooms face the tree-shaded garden with trellised roses and a flutter of flowers from daffodils in the spring to wildflowers in the summer.
Address: 75 Rue du Cardinal Lemoine, 75005 Paris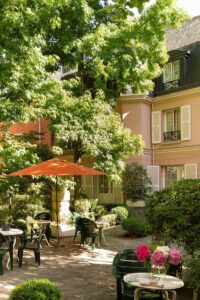 Shangri-La Paris
At the Shangri-La hotel, you will have the most romantic and perfect experience for your honeymoon in Paris. The view from the window is just amazing, with the Eiffel tower right in front. This building was formerly the mansion of a nephew of Napoleon III, and today as a hotel, it still maintains the decoration of the Belle Epoque.
Address: 10 Avenue d'Iéna, 76016 Paris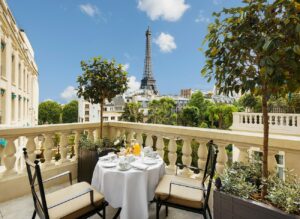 La Réserve
Tucked behind the Champs Elysees, the 40-room La Réserve is housed within a 19th-century Haussmann-style mansion that combines old-world charm with modern conveniences – think of silk-clad walls and tablet-control technology. La Réserve's restaurant, Le Gabriel, has just received two Michelin stars and offers a personalized menu designed with your dining preferences in mind. After enjoying a hearty French dinner, detox the next day in the hotel's super exclusive spa, stocked with Nescens-Swiss products.
Address: 42 Avenue Gabriel, 75008 Paris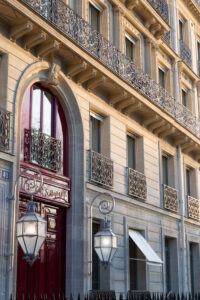 Hôtel Da Vinci
The Hôtel Da Vinci is a rare gem among local accommodation, offering a beautiful Italian Renaissance hideaway in the heart of Paris. Each room is decorated within the sort of a number of the foremost influential members of the Quattrocento, like Catherine de Medici, Michelangelo and Botticelli. In addition to the Renaissance atmosphere, the hotel also displays some works and sketches by Leonardo da Vinci and even features an impressive spa area inspired by the colors of the Mona Lisa.
Address: 25 Rue des Saints-Pères, 75006 Paris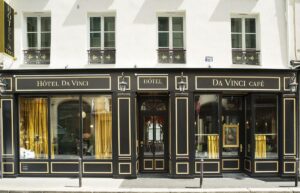 Where to eat?
For your honeymoon in Paris, it is for sure that you will like to go eat to the best places in the city, from desserts to dinner:
Passager
Who says brunch is only for Sunday? At Passager, a New York-style coffee shop tucked away in the 11th arrondissement, we can have brunch, breakfast, in short, we enjoy XXL red fruit pancakes all week. Essential: a hot chocolate and banana toast.
Address: 107 Avenue Ledru-Rollin, 75011 Paris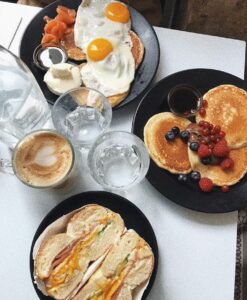 Terrass 'Hotel
For a breakfast with a panoramic view over the roofs of Paris, climb to the top of the Terrass 'Hotel, in Butte Montmartre. Drink your Parisian coffee from a well-stocked buffet (bread and pastries, Alain Milliat jams and honey, eggs, cold cuts and cheeses, fruits, cereals, juice), enriched with a dish of the day (Ham and Cheese Croissant on Monday, French bread brioche on Tuesday, avocado bread on Wednesday …).
Address: 12-14 Rue Joseph de Maistre, 75018 Paris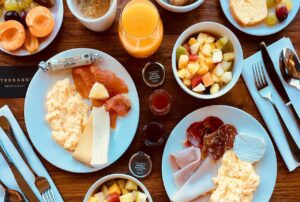 La Maison du Chou
Tempted by an ultra-fresh puff pastry cream, garnished in front of you by the team of chef Manuel Martínez, awarded with a Michelin star? Designed with local produce, made with sabayon, white cheese, and whipped cream, these creamy puffs are crisp and tender. They are tested in a retro setting, from the 1950s, where small tables and converted wooden chairs are the stars.
Address: 7 Rue de Furstemberg, 75006 Paris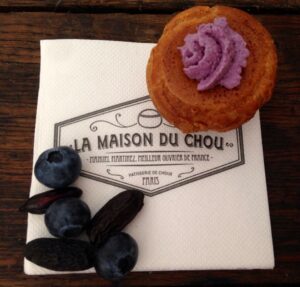 86 Champs: Pierre Hermé x L'Occitane
This is one of the collaborations that has been talked about a lot recently. Pierre Hermé opened a concept store on the Champs Elysées in collaboration with L'Occitane. In this place dedicated to beautiful and good things, there is a magnificent boutique space with Pierre Hermé macaroons and L'Occitane products, as well as a bar-restaurant (at the back of the store and on the terrace) where you can taste the specialties Pierre Hermé sweets, but also tasty dishes. What do the two have in common? The immortal, which both Pierre Hermé and L'Occitane use a lot. And I can only recommend that you fall in love with the macaroon that is Pierre Hermé's specialty: Ispahan with rose and lychee.
Address: 86 Avenue des Champs-Élysées, 75008 Paris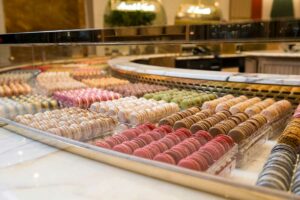 Yann Couvreur
A former pastry chef in grand palaces, also known for his television appearances, Yann Couvreur left the Prince of Wales to open his patisserie in 2016. Today, he has two (+ one space at Galeries Lafayette) and is probably not going to stop there. The trademark of this young pastry chef and to revisit great classics. I especially liked their Baba Raspberry Mint, unexpected but amazing. His specialty: kouign-amann, also to die for! Some tables also allow you to eat on-site.
Address: 23 Bis Rue des Rosiers, 75004 Paris and 137 Avenue Parmentier, 75010 Paris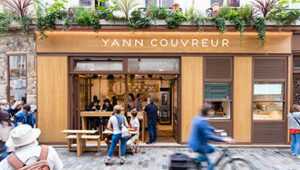 Restaurant Lapérouse
Lapérouse is a French gourmet restaurant located in an 18th-century mansion. The interior is exceptional, thanks to the privileged privacy of the small private rooms decorated with paintings and mirrors with various themes. If you go during your honeymoon in Paris, you will not regret it.
Address: 51 Quai des Grands Augustins, 75006 Paris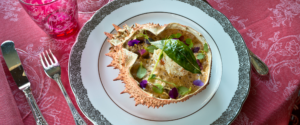 Les Ombres
It is a restaurant overlooking the Quai Branly Museum, located on the roof terrace and offering a unique panoramic view of Paris and the Eiffel Tower. Contemporary and daring cuisine.
Address: 27 Quai Branly, 75007 Paris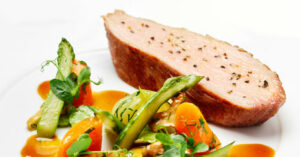 What to do?
During your honeymoon in Paris you can do too many activities, from going to rooftops with incredible views of the city to some excursions outside of the city to amazing castles:
Laho
Laho, a new Parisian rooftop, is just a short walk from the Gare de Lyon. From July 3, come to relax in this little bar, designed by the Passage Enchanté team (Le Jardin Suspendu du Parc Floral), and savor the menu imagined by chef Julie Basset. An ephemeral place that should seduce you all summer with its impressive view of the capital.
However, this is not the only rooftop in the city, visit here to see other rooftops in Paris.
Address: 5-9 Rue Van Gogh, 75012 Paris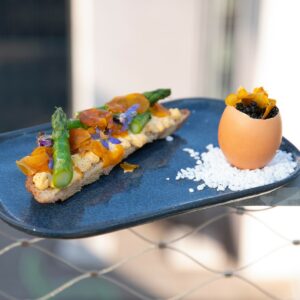 Fondation Louis Vuitton
The spectacular boat designed by star architect Frank Gehry. Located in the beautiful outlying districts of western Paris, this showcase for modern and contemporary art focuses on the biggest names of the moment. Latest exhibitions: Basquiat, the Courtauld Collection, or Charlotte Perriand. Also, it is located in the middle of the Bois de Boulogne, certainly, ideal for a digestive walk.
Address: 8 Avenue du Mahatma Gandhi, 75116 Paris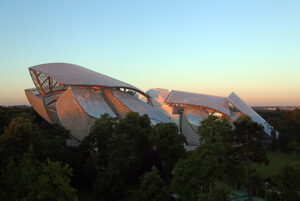 Grande Salle de la Philharmonie
The Philharmonic has had a great amount of programming since its creation in 2015. In addition to its impressive concert hall, it displays 1,100 m2 of exhibition space and a 1,750 m2 educational center, at just like her older sister next door, the equally attractive Cité de la Musique.
Address: 221 Avenue Jean Jaurès, 75019 Paris

Val de Loire
The historic Loire Valley, where you can tour hundreds of impressive castles, is just a short train ride away. Take a romantic stroll through the manicured gardens of Chenonceaux Castle or take guided tours of the majestic Chambord Castle and the famous Gothic cathedral Notre Dame de Chartres. Whatever you do, just make sure to leave some free time on your schedule – you'll want the chance to sip local wine in the surrounding vineyards.
Vaux-le-Vicompte
This is the biggest and intimate historical castle in France. Just 35 minutes from Paris by train. Above all,  it's known for its majestic mansion and its 82 acres of 17th-century French formal gardens. Certainly, a place where you can stroll, picnic, and feel like royalty at the same time.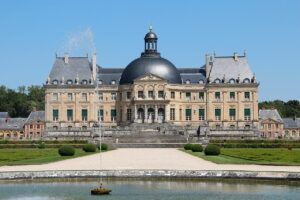 See more: The best-starred restaurants in Paris for your wedding