Wedding During COVID-19
There's a lot to think about when planning your big wedding day, no matter the day.
But if you have to plan a wedding during COVID-19, you may wonder what you should do. This way you can prepare and plan on the basis that your wedding will be affected.
These days, whether you're planning a wedding at home or abroad, there are countless factors that are affected. So everything can vary depending on the location, the date, the number of guests, and the travel involved.
See more: Intimate Wedding
However, at this point, it's safe to say that any wedding in 2020 will look different. Whether it is held on a smaller scale or just as you have dreamed it. But the truth is that the coronavirus has affected the entire wedding industry.
To help you prepare for what you need to do, we've taken a closer look at COVID-19. Also, how it's affecting wedding planning right now and how to prepare for the next few months. The best advice we can give you: stay informed and prepared for anything. Keep an open mind for everything that might happen. Also, if you can, hire a wedding planner who will guide and help you in case of any mishaps.
And, regardless of your situation, it's important to keep your mind on the bottom line. Take care of yourself. Honestly, it's okay to cry, be angry, or have a lot of emotions at once. Your day will come and trust us when we tell you it will be the most amazing.
Here's what you need to know about coronavirus and wedding planning, based on when and where you say, "I do".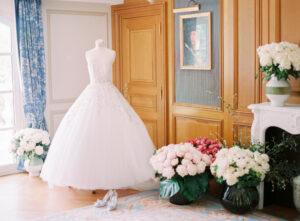 What to do if you have decided to postpone
Whether you are forced to postpone or decide to do so out of precaution, it is important to remember that you have options and that your team and your family and friends will be there to guide you through the process of postponing your event.
Hire a planner
If you don't have a planner, ask an expert for help with individual consultations.
Review your contracts
Vendors are much more likely to work with you on a postponement than a cancellation. Start the conversation gently and avoid obtuse language.
Decide on a new date
This step involves two steps, one is talking to your family and guests, and the second to your vendors. I recommend focusing on a season, rather than a day or a month, for best results.
Expect extra fees
Be prepared to spend more than you thought. As this pandemic continues to affect all aspects of our economy, locals and vendors are likely to become more rigid in their policies.
Move quickly
Timing is very important right now. Be prepared to move fast. Other customers are your competition here, as many are in the same boat. This requires flexibility and optimism.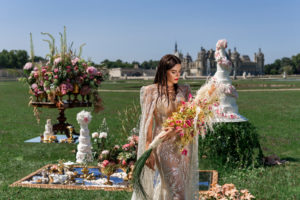 What to do if you are considering a postponement
When considering the right time to make this decision officially, there are many variables to consider. Each situation is different, but in general, to allow for a much less stressful process, we recommend that the decision be made approximately three to five months later.
While that time may be ideal, it may also not be possible for you depending on the flexibility of your providers.
To make the decision that is best for you, your wedding, and the safety of all your guests, consider taking the following steps.
Consult with your team
First, talk to your entire creative team, your wedding planner, the venue, the catering team, the musicians, the video and photography team, basically anyone involved in the day. Take the pulse of a possible backup plan and have alternative dates in advance in case regulations or your perspective changes. "The goal is to get everyone you love safely to your big day so that everyone can celebrate.
Recognize your priorities
When we postpone a wedding, we are first determining if the venue and hotels can accommodate the new date. After that, we are reaching out to all vendors simultaneously to see if they can do the same. There is little chance that your entire plan and team can be carried out without any change, and you will need to consider any additional fees that may be associated with determining whether to postpone later in 2020 or move to 2021, but in general, we aim to have as few changes and as little financial impact as possible.
Determine the non-negotiables
Talk to your partner and consider what your non-negotiables are, and how they will influence your final decision. For example, are you willing to move from a ballroom wedding with 250 guests to a backyard wedding with 50 guests? Is it okay not to be able to hug your guests or dance around them? Is it imperative that an older person attends your wedding, such as your grandmother?
Consider your guests
Where your guests travel from is definitely a huge factor. As the availability of the location, if your guests have made travel plans, you should think about how much time they will need to make adjustments. If your guests are local, you can probably make your final decision closer to three months. But it's important to note that invitations should actually be sent three months before to allow for a confirmation period of eight weeks before the wedding date. We always recommend eight weeks to allow for smooth production (availability of decoration, the printing of the day's materials, obtaining the welcome gifts, etc.).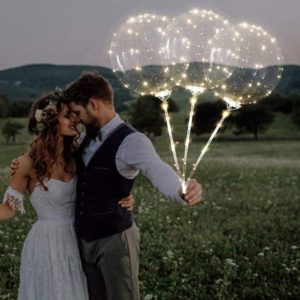 Your wedding is planned in France in 2020
Since there are many travel restrictions having a backup plan is imperative for couples, their families, and their creative teams. We don't know when international flights will be allowed again, and although we hope it will be soon, time will tell.
Postponing at your original destination
When rescheduling a destination wedding, you will need to take into account the change in guest accommodations.
Choosing a new location
To be prepared, consider an incredible location as a backup for a weekend getaway or a wedding week. Also, a place that means something to both of you, or your family, that you may not have thought of before. In France, you can find beautiful places where you can have a more intimate wedding, like in a vineyard, in the mountains or on the beach.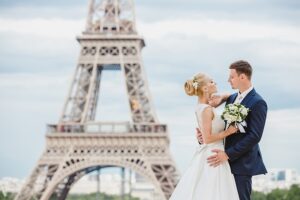 See more: Elope In Paris
What to do if you (or your guests) are booking a trip
Whether you're booking a honeymoon trip or asking your guests to travel for the big day, weddings involve some degree of travel.
Understand the cancellation policies
First, anyone with travel arrangements should check the CDC and WHO websites daily and ask their own doctor for recommendations. Beyond that, schedule your cancellation deadlines to make a decision at a time when you may lose a deposit (or more) rather than making an immediate decision when it is not required and may not make a financial difference. If you wish to make changes, check with hotels or cruise partners about possible waivers or flexible policies that allow them to change dates at no additional cost.
Consider CFAR insurance
If your honeymoon or travel plans go beyond this summer, go ahead with your plans. Book the places you want to go, but reserve flexible cancellation policies. If you're still worried, get CFAR insurance. Follow your instincts.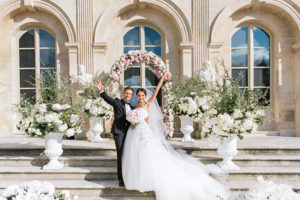 If you're planning a wedding in 2021
Start now
Honestly, don't even consider 2020 unless you already have professionals to help you get through it. We really don't think it's worth taking on that uncertainty and that amount of stress. If you're ready for 2021, and particularly for the spring of 2021, you'll definitely have to move fast. There's the 2020 couples' competition that's being postponed, so we're seeing dates and places starting to go quickly.
Hire your sales team
Your creative salespeople are eager to create and celebrate couples. Share the good news and focus on the things you can actively plan for right now: choosing the right date, hiring your creative team, daydreaming about how your story will look and feel, listening to music for your playlist, and dreaming about fun cocktails to serve.
Make a vision board
Create a Pinterest board that is more real-life oriented: One that focuses on the style of food you like, beautiful cocktails, flowers seen in nature, architecture, and landscapes. Use this real-life inspiration to develop the ideal design plan for your big day and share it with your team.
Follow the positive accounts in social media
In a time of such uncertainty, it is recommended to follow the accounts (like @wedding_in_france!) for inspiration and ideas. Many planners, floral designers, clothing stores, and locals are making it a mission to share positive happiness and planning tips.
Be flexible
This will be a year in which flexibility is key, not only with the date and location but also with the number of guests. We will basically combine two seasons into one, and I know that all the other places and vendors will do the same, so it is very important to give yourself as many options as possible.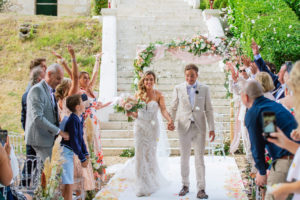 See more: Honeymoon In Paris
See more: Outdoor Ceremony
See more: Venues To Elope In Paris