An outdoor ceremony could be perfect in every way, from the setting and atmosphere to the photos. Being outdoors surrounded by nature conveys a more relaxed atmosphere
for the bride and groom and their guests.
On the other hand, there are church weddings, they have their own appeal with beautiful architecture. In addition to being under a roof, it gives you security in any case of a humid climate.
Although, WOW! Celebrate your wedding outside! The possibility of a blue sky, a decoration that combines with nature, breathing fresh air, in Paris …
Getting married in Paris in an intimate or iconic place, romantic garden: it will be one of the best experiences of your entire life.
It sounds charming, but the truth is that anything can happen on your wedding day. So, this article gives you insight on outdoor weddings.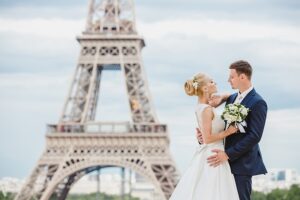 Where do you want to celebrate your wedding?
You want the ceremony to be in a public or private place? If you prefer a public place, such as the beach or the countryside, then you must take into account the necessary permits to carry out the celebration, and logistical issues, such as access streets or roads, parking areas, restrooms, sound reinforcement, and power generators, among others. Likewise, it explains the importance of indicating to the guests perfectly the place where the celebration will be and "providing a map with the GPS coordinates on the wedding invitation or website."
The beach
Celebrating your wedding on the beach means taking precautions regarding the decoration since it is normal for there to be a lot of breezes. However, being able to close your eyes and listen to the waves and feel the sun fall on you, makes you think that it is an excellent option.
A vineyard
Try to avoid celebrating your wedding in a vineyard during the summer, because it can have very hot and dry weather, so this can make one more investment in soft drinks and shadows. Although, being able to celebrate your wedding in a vineyard, I can have the possibility of having a private space and being able to drink a lot of wine!
An inner courtyard
For this type of outdoor wedding, it is normal that you have to invest a lot in bathrooms, dance floor, tables, shop and awnings, decoration and kitchen equipment. But, this type of wedding makes the ceremony more intimate and romantic without it being very expensive.
Paris
You want to get married at the Eiffel Tower, the Notre Dame Cathedral, the Louvre Museum. One of the famous monuments of Paris may be the backdrop for your ceremony.
Many people love to visit these famous Parisian places. Likely, you are not alone in front of the Eiffel Tower, the Louvre, or the Notre-Dame. It is best to schedule your outdoor ceremony early in the morning to avoid the crowds.
If it is important to you that your wedding be private and intimate, the only way to be alone is in a private place. In this case, take a look at the most beautiful wedding venues in Paris. There are so many amazing Paris wedding venues with great views of the Eiffel Tower, indoor and outdoor options …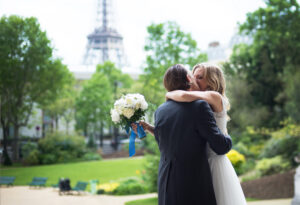 I try to think about the extra costs
Just being outdoors doesn't mean it's free as a venue for your wedding ceremony. To stay on budget, ask yourself these questions: Is there a fee or a "suggested" donation? You must inform yourself in advance to avoid subsequent surprises. And if its location is remote. You may incur additional shipping fees if the site is too far from the nearest road or parking lot.
Electricity
Lighting, sound, and temperature control? If your site doesn't have electricity, you're going to need generators for your kitchen appliances, and amplifiers and speakers for your band or DJ. There is also the problem of lighting because after sunset everything will be very dark. And no matter what time of year, fans, air conditioning, or portable heaters are almost always necessary. So the best thing to do: Call an electrician to check your settings to find out exactly how much power you need.
Have a plan B
The last thing you want to do while planning your wedding is to plan another wedding. But if the worst-case scenario happens, like rain, it is better to be prepared to be able to react quickly. For example, if there is no indoor option, make a deposit for a tent, just in case.
And if you wake up and it's already raining, don't wait until just before the guests start arriving to confirm Plan B.
It is also important to have plenty of umbrellas to offer your guests. In the event of a downpour, place a stack of towels in each bathroom.
Hot and cold
Although the weather is warm during the day, temperatures always drop at night. It offers heaters inside the tents and pashminas for the ladies. If not, put fans and large hats for the outdoor ceremony, or put huge umbrellas outside on the tables at the reception. Provide hydration with lemonade or iced tea.
Contact your vendors and photographer
For you to be well advised, you must discuss what the environment will be like with your vendors. They can advise you on the most suitable equipment and even help you have a backup weather plan.
Also, very important, be sure to talk to the photographer about what the lighting will be like on the day of the outdoor ceremony. Having poor lighting can greatly affect photos. This is why you must take the time to consult a photographer who knows the place and knows how using the technology to follow the sun will dramatically improve your photos.
It's also important to talk to the photographer about wedding hours, to make the most of the sunlight. Taking the time to discuss this with an experienced photographer can save you a lot of pain while your wedding!
Dress code
It is important to take into account the season of the year and the weather that your wedding day will do outdoors, to be able to dress accordingly for the outdoor ceremony. If you are planning a fall or winter wedding, and you also like short and strapless pours, you may want to consider an extra accessory to keep her warm. The same is true for summer: avoid long-sleeved dresses and consider shorter dresses.
Also, if you and your bridal party will be wearing heels, be sure to pick up some heels to keep from sinking into the grass. You can also distribute plastic heel protectors, which prevent shoes from sinking into the ground.
Also, be sure to notify your guests that the wedding will take place outdoors. This will help them know whether or not to wear heels, flats, boots, coats, or lightweight fabrics, it all depends on the weather for the location and time of year.
Decor
One aspect that is often overlooked at outdoor weddings is decoration. Keep in mind that your centerpieces and other floral decorations should not be exposed to sunlight or extremely cold weather for a long time before your wedding begins. You can also make sure your business cards are taped to the table if you are dining out – the wind can come at any time and blow them off the tables.
Music
Music is usually a key part of any wedding ceremony, so be sure to ask what sound systems and speakers are installed. Many of these venues will also offer you portable sound systems as they are used to hosting weddings outdoors. So, if the chosen place is not configured for this, then that is a key point to discuss with the owners of the place. By far the easiest option is to choose a portable, battery-powered system.
Live music is also a very good option and very popular at outdoor weddings, be it a singer, harpist, jazz band … whatever. There are many specialist wedding musicians available to hire who are very adept at organizing outdoor events, or perhaps you have a friend or family member whom you could ask to sing or play your favorite song.
An outdoor ceremony in Paris
In the city of love, you will have a lot of very different options between them. That is why it is important to have an idea before you start searching.
First, decide where you want to do it: a restaurant, a mansion, a terrace, a garden or a park … There are many options.
Take into account that in Paris there are many restrictions regarding noise, so do not hesitate to ask how long you can rent the place. Otherwise, you can rent a larger place, such as a castle located on the outskirts of the city.
Are you ready to celebrate your outdoor wedding in Paris? Visit the following articles and the CTH EVENTS PARIS website.