Wedding Canceled? Here Is Your Plan B!
It is very likely that, for some reason, your wedding has been canceled
Maybe you had a big, beautiful wedding planned somewhere magical. But you have had to cancel it. However, you still want some kind of celebration. It could be even a small one. So, why not an intimate wedding? Where they can do a ceremony and invite the closest friends and family. Imagine being able to do your little wedding in Paris, in the city of love.
Small weddings are trending, and it's not just because they are easier to do. Couples are opting for a more intimate celebration to get quality time with each guest and create a more relaxed and informal atmosphere. But casual doesn't mean simple – there are plenty of ways to create a bite-sized event packed with custom details!
Plus, small weddings are great when you want to keep your budget on the sidelines, allowing a great opportunity to get creative.
Also, in view of the current circumstances, many weddings have been canceled, so they have to find a plan B. An intimate wedding is perfect when you want to spend the day with your closest ones.
If in the end, you decide to have a small wedding, here are 7 things to consider:
Choose a location for your intimate wedding
Wedding canceled? Then it can be a good option having a smaller guest list. It can increase your chances of reserving your dream location, an alternative wedding. A favorite cafe or restaurant could be a photo-worthy place. Or maybe a small vineyard, a brewery, an art gallery, a rooftop apartment, or even a hotel suite.
Having a small group of guests at your wedding allows you to choose an amazing outdoor space for your ceremony. A rustic hacienda, a forest treehouse, an exclusive beach, or even in the middle of the desert may seem out of the ordinary, but they are a great place for your wedding photos.
In Paris, there are many romantic places where you could celebrate your intimate wedding, rehearsal dinner, or celebration. Like a very French restaurant, a castle, or in a small section of a hotel. In addition, they will have a very French atmosphere, which will make this moment unique.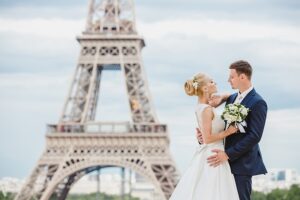 A good menu
If you and your future life partner are two foodies, you may want to have an amazing menu. For a wedding with fewer guests, you may have the opportunity to hire a food truck and serve snacks all night within your budget. You can also have a brunch the next day.
Also, you can choose a buffet which offers a wide variety of dishes and everyone can choose what they want. Otherwise, you can choose a couple of formulas or a tasting with the service to the table. Whichever case you choose, don't forget that French cuisine is delicious. Starting with the wines, then with their cheeses. There is a huge variety of options that will leave you wanting more.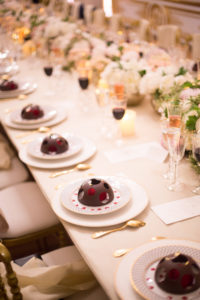 Treat your guests well
A small wedding gives you the opportunity to really do your best. Guests can stay the night in an inn and your rehearsal dinner can be more elaborate and take place in a cellar with a pairing for each dish.
It's important to note that keeping things small means that extra details like providing limousine service, loaded gift baskets, and six-course banquets for your guests become suddenly more accessible. Think of chocolate boxes instead of a single truffle, the best champagne instead of sparkling wines and luxurious arrangements of rare roses and orchids and placing them everywhere as part of the decoration.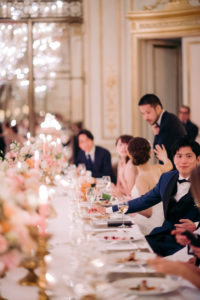 You can focus more on the details
From hand-painted portraits of your guests like diner cards. You can do customized welcome notes, to epic gift bags filled with local (Parisian) products. It may be easier to make real what you imagined when it is on a smaller scale. Not having to skimp on the details due to budget or time constraints means that your wedding can actually turn out to be like that secret Pinterest whiteboard you've been haunting since before you got engaged.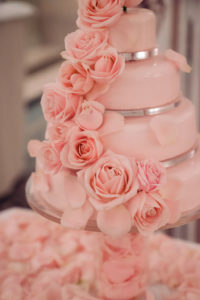 Break the traditions
Having an intimate wedding in Paris gives you the opportunity to create a unique and special experience for you and your guests. Instead of having a traditional "reception" with just 50 people, skip the traditional lunch and reception and opt for a beautiful family dinner at a long banquet table. There are lots of inspirational photos for this on Pinterest.
Throughout the space, you can light candles and play background music to create a beautiful intimate atmosphere. This style of dining encourages mixing and interaction between you and your guests. If it was me in this situation, I would have a buffet and have everyone sit and eat together at a long banquet table. It would be a good idea to sit down with your partner and discuss unique things about your relationship or something that both of you always wanted to do with your wedding but couldn't because of the large number of people who would be there. Remember this is about you two! Nobody else!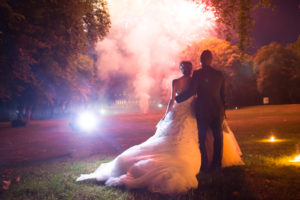 Activities + other fun ideas!
Play something interactive with your guests! The shoe set is very popular. Also, you can review questions and ask your guests to see who knows the couple best.
Give each guest a disposable camera so they can take photos during the wedding. Although you will have a professional photographer at your wedding, it would still be fun to see your wedding through the eyes of your guests, and it is also a nice way to get the guests to interact with each other.
If you still want the tradition of cutting the cake, the father-daughter dance, and a formal farewell, go for it! You don't need to have a lot of people at your wedding to do those things. Another idea, if your guests love to dance is to have a little dance floor to have fun with your friends towards the end of the night.
Create a playlist of songs that you and your partner love to listen to together and put them in the background. Another thing that would be super cool is setting up a vinyl record player (if you have one) and playing your favorite records as background music. I don't know, I always thought it would be great and since there won't be many people there, there is less chance of it going bankrupt!
Have a disinfection area. This is a weird time we are living in right now, and a disinfection area could be a good way to prevent the spread of germs! A table with hand sanitizer is perfect!
Have an informal seating area for your guests to sit and chat after dinner. You can make this space beautiful with floral rugs and candles like dinner.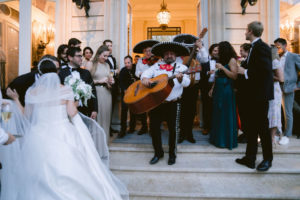 Make it special
Don't dismiss the details just because this event is smaller than you had planned. You can still choose beautiful places, beautiful flowers and very well decorated tables. The impact these details have on a small meeting is invaluable.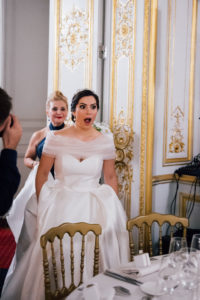 Intimate wedding in Paris
Perhaps you have already had your civil ceremony at home, perhaps not. Maybe you will invite some family and friends, or maybe it's just the two of you. Whatever form your escape has taken, you've made a bold and beautiful decision.
A getaway to Paris is a symbolic gesture, full of romance and magic.
If you are thinking of a small wedding or an escape, then Paris is the perfect place, as it offers incredibly beautiful places for photography and some amazing places for the ceremony and / or reception.
If you want some advice, I will give you this one: planning a wedding in Paris, as intimate as it is, is a very important task. That is why they will need the experience and talents of a Parisian wedding planner.
With CTH Events Paris, I will help you plan this wedding from start to finish. In addition, I will pay attention to every detail so that everything has harmony and is beautiful and original at the same time. We will choose the date and place where the wedding will take place, in addition to the menu and drinks. And we can also talk about where your guests will sleep, the dance floor and their wedding dress. And finally, I would like to remind you that I am going to be with you throughout this beautiful process. In this way, they will be able to be much more relaxed on the wedding day making it perfect in every way. Feel free to contact us so we can talk about your wedding in Paris. We will be happy to help you.