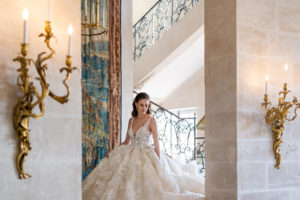 "In quest of the perfect wedding dress"
After the proposal that is the main wich of all the future brides.
Choose the perfect dress is really important and difficult because the wedding dress has to fit perfectly with your personality.
You know that you will be the center of attention, the most beautiful woman of the reception all day.
Furthermore, the choice is more difficult because of the different type of dresses and materials, it's a whole story between the lace or tulle, the choice is vast. You can found inspiration everywhere : in the new trends or among our brides or if you're more ambitious among the most iconic wedding dress.
By the way, if you interested by fashion and you want to stay beautiful and fashionable, the trends evolve every year, because we know that at CTH Events Paris the only thing that really wants a bride more than a perfect reception is to be breathtaking and memorable with her wedding dress.
Finding the perfect wedding dress while being a trend
New trend evolves over the years and brands offer models that are very different from each other. The new trend for weddings evolves also. Each year in spring, designers unveil their products during Bridal Fashion Week.
You can find all the inspiration you need and avoid wedding misstep.
There is something for every taste and weddings: sensual, elegant, bohemia, princess, vintage or modern…
The most popular for this year are the lace wedding dress or the "Timeless". The lace is the perfect definition of "Sophistication". Nowadays you can wear a white bridal gown or wear another color. White was the color of "purity" it's now something traditional.
It sometimes goes so far as to completely cover wedding dresses and plays on transparency for a very romantic look. Combined with silk or crepe, lace enhances a simple, fluid and light dress. For this 2020 trend there are four strong look and design:
The bareBack: This kind of dress is unanimous sensual and delicate she dresses also the lace. The Bride who wants to change from the traditional dress can opt for a set consisting of a top and a skirt.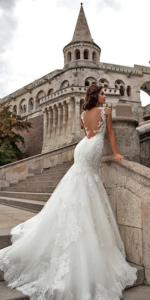 One-Shoulder Necklines:  This one sleeves trend creates a unique and elegant silhouette worthy of the greatest movie stars. This 2020 bridal dress is working on a modern or classic dress with a long wedding train. This one-shoulder neckline working also with differents embroidered materials, like satin, tulle or lace.
Balls gowns: Balls gowns dress are perfect for the Royal wedding fans this wedding trend is the perfect wedding gown. If the goal of your wedding is to make the most spectacular entrance this is the best option. Wear a ball gown wedding look is to create something magical at the reception and it gives you an amazing princess gown look. You will be in love with your own photo.
In 2020 this bridal dress made absolutely part of the wedding dress trends. Actually, Ball grown style is one of the most versatile dresses. Adopt this style and be the next Grace Kelly. This voluminous wedding dress is created to turn a few heads.
Ruffles: We are in front of "your inner romantic". Did your wedding day is not as romantic as this ultra-feminine details?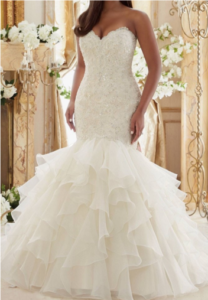 A ruffly skirt adds dimension to a mermaid silhouette, while a full skirt of frothy, cascading ruffles is fashion-forward.
If you really want to have more than an exceptional bridal dress, you can opt for an haute couture dress as our brides. One of our brides got married with an Elie Saab creation, one of the best wedding dress designers. who said that weddings can't be a fashion catwalk?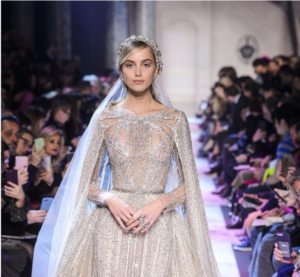 An Haute couture bridal dress Who says Haute Couture show necessarily says wedding dress. The real highlight of these sumptuous shows, this amazing creation is supposed to condense the talent and the craftsmanship of the workshops of the luxury house, even if it means doing too much. Never mind, we often start to dream in front of these inaccessible wedding dresses that are sure to inspire us for D-D   " Spectacular and full of details"               With the spectacular transformations of fashion and the multiplicity of styles, the bride-to-be will seek to personalize her dress as much as possible. The twentieth century saw the appearance of new sensual brides who dared to be transparent, tulle, lace … One watchword: originality. But we also love when it's spectacular with a long train and full of details. The Eternal fairy Tail of Ellie Saab  During our different weddings, we saw differents dresses one more beautiful than the other, as the bride herself. The collection of Ellie Saab is telling you the beauty and the fairy of these magical moments. All the brides are dreaming about walking in one  of the dresses of the collection. "Creator of dreams, cantor of elegance" You will be in love with the exceptional haute couture dresses collection by famous creators Ellie Saab.  Elie Saab is a Lebanese stylist which is known for his amazing haute couture dresses and wedding dress collection embroidered with different materials. This collection is the finesse in its purest form. There are many qualifiers used to present the Lebanese designer Elie Saab and his wonderful dresses. Since its inception, her work has been an ode to grace and femininity. For his new Haute Couture spring-summer 2019 collection, the designer uses the ingredients that have made him famous: pieces oscillating between classic charm and modern lines, the use of vaporous materials and the highlighting of slender silhouettes, adorned with long dresses marked at the waist. for weddings, inspiration is everywhere, and the designer knows how to make your dream come true. You can dream about an impressive bridal dress in lace and embroidered of floral design.  Haute couture gown for a wedding is the perfect match because your gown has to be as fabulous as you. Being unforgettable and just breathtaking is the main issue of the wedding dress because is one of the most beautiful days of your life. it's a unique day where you are the queen of the day. You are the star and you want to show to your loved one that he/she choose the right one.  In fact, as i said before you can find inspiration everywhere and why not in the most iconic wedding dresses. In effect, some bridal dresses are unforgettable as the bridal gown of some celebrities that we all know Elisabeth Taylor or Princess Diana, etc…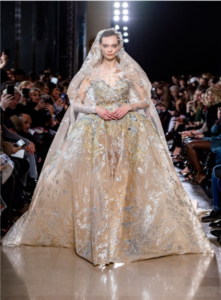 Haute couture Celebreties Wedding dress We selected four white wedding gown to look for your future reception. In these wedding dresses, there are lace, long train, gown looks and above all a beautiful bride.You can choose to be as amazing as a Princess and get inspired by  
Kate Middleton in wedding princess dress designed by Alexander McQueen.There is an ivory satin and appliqued lace bodice, lace long-sleeves, a low neckline and a full skirt. This gown is between modernism and classism and can give you many components idea to put in your own futur dress.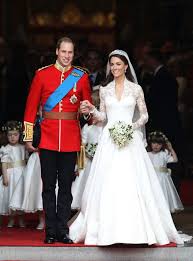 Or
Miranda Kerr's satin dress from Haute couture Dior inspired by Grace Kelly wedding dress design.
But if you want to have a more spectacular wedding dress with a long sailing train you can get inspired by
Kate Hilton bridal dress with a Long 10-foot train from Valentino and inspire by Grace Kelly. This gown have a long sleeves a a high neckline.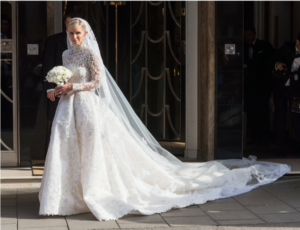 And you can be more extra and opt for a radical breathtaking wedding dress as
Priyanka Chopra wedding dress by Ralph Lauren creation with a tulle veil measuring an incredible 75ft.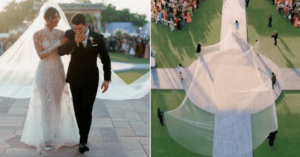 Finally, you can be inspired by many things and many wedding dresses. You can wear a trend and fashion classic look. Finding the perfect wedding dress is something that belongs only to you and our most beautiful dreams. In fact, in the end, you will be a unique queen at your ceremony and your gown will stay on the head of everyone.