How to find the Wedding venue in France: QUESTIONS TO ASK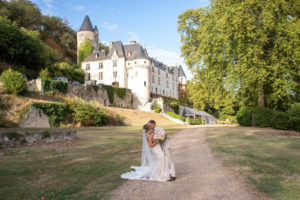 Finding the perfect place to celebrate your union time is the dream of every couple. Unusual place, historic castle, luxurious hotel … many places promise you a unique setting for your wedding. Finding the perfect reception venue is therefore probably the most important thing for you.
You are right! It is therefore very important to make the right choice and ask the right questions in order to avoid unpleasant surprises on D-Day.
Here is a list of the important points that you must discuss with your wedding planner, it can also be questions that she will ask you in order to offer you something to adapt to your situation:
THE BUDGET
The budget comes to the forefront because it is an essential point when organizing a wedding in France and more particularly in Paris. You will be automatically asked by your wedding planner to have it suit you in the best possible way. Try not to cut your budget if you really want to enjoy a lavish wedding in Paris and always ask the cost.
There is so much to do for the happiest day of your life!
THE RECEPTION PLACE
Your  French Wedding Planner will necessarily ask you if you have an idea as to the location of your wedding. So, if you have a preference for a particular place right from the start, don't hesitate to talk to it or ask questions. She will surely be able to inform and guide you in your choice.
Try to be sure that your ambitions are consistent with your budget so as not to have false hopes.
If on the contrary you have no idea as to the place of marriage, don't panic! your wedding planner is there for that and she will be able to advise you on suitable places to suit your tastes! Remember to specify your preferred city. If you want to organize your wedding in France and more particularly in Paris, are you open to nearby cities or do you just want to stay in the big city? Keep in mind that the largest castles are not to be found in the city of Paris but around an hour away. With a good organization is a professional wedding planner, the road will not be a problem.
THE WEDDING DECORATION
The decoration of your venue is an important step to create a special and pleasant atmosphere. It is important that you like it and should not leave your guests indifferent. Opt for a theme such as bohemian, chic, French wedding … it is up to you! If you want flowers, it's unlimited, but think about their colors and prefer seasonal flowers. Let your Wedding Planner tell your wildest desires whether it's a simple LED curtain to a huge dance floor, she will advise you according to your budget and find the best alternatives if your dreams are too amorous. Be careful, some historic places like castles do not accept any type of decoration and it will be difficult for you to make installations that require drilling the walls for example!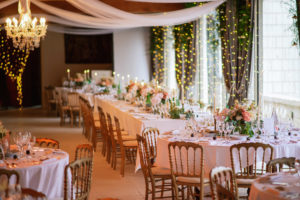 Once you think you have found THE perfect place, do not forget to ask the right questions to the manager of the place with your Wedding planner before signing your contract. Many points are often forgotten when they are in reality essential to the smooth running of the event. Here is a list:
IMPORTANT PARTS FOR EACH STAGE OF D-DAY:
Your wedding venue should have enough space to accommodate all of your guests.
Each step is important in a marriage. This is why we need a room to adapt for each moment but also to allow a perfect organization!
– The place of ceremony
If you decide to organize your ceremony instead of your wedding, a room will have to be arranged for. It will be a spacious and particularly well decorated place.
– A place for cocktails
The place should be particularly large to place a bar and the guests standing
– The place of dinner
This room should accommodate enough table for all the guests. There should be enough space for the servers to circulate without difficulty or for the buffet to be accessible.
– The venue for dance until the end of the night!
A venue with a dance floor and a place for the DJ!
For each emplacement, try to keep the surprise for your guests! do not pass them through the room or dinner will take place to access the cocktails for example. The surprise effect will then be there when you open the doors of each room.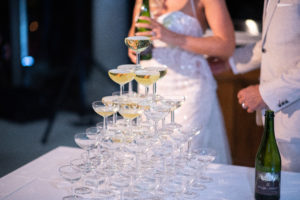 ASK FOR PLANS
In order to provide you with the best possible organization, it is essential to ask for the plans of the château and each of the rooms. Having the size of the rooms will allow you to choose your decoration more easily and organize the spaces in the best way. You will have knowledge of emergency exits and possible important points…
HAVE A PLAN B
Contingencies are always taken into account when planning an event such as a wedding. If you want to get married outside, for example, you are not immune to possible rain that was not necessarily announced in the weather. This is why your Wedding Planner will always have a plan B on the day of your wedding. The choice of your place will then have to take into account these possible unforeseen events.
CHECK IF THE PLACE IS ACCESSIBLE FOR GUESTS AND PROVIDERS
The accessibility of the place is an essential point, it should be practical for your providers and easy to access for your guests.
FOR GUESTS:
Your wedding venue should ideally be near the hotels where your guests will be staying. If ever the place is further away, do not hesitate to provide transport such as buses, shuttles or cars that will facilitate the outward and return journeys of your guests. Finally, keep in mind that not all of your guests will leave at the same time, so also provide chauffeurs in cars who will wait around midnight in front of your reception location to take the guests who want to their respective hotels.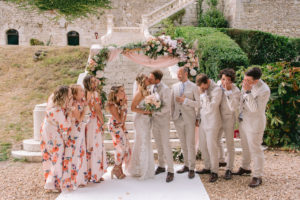 FOR PROVIDERS:
Your providers must be informed of every detail that concerns them on the day of the event in order to avoid unpleasant surprises.
Check that the reception place has a service provider entrance and do not forget to give clear instructions to each of them so as not to be disturbed on D-day. Also ask the owner of the place for the dimensions in height and in width of the entrance gates so that your service providers provide a suitable truck. A truck that is too large to pass through the gates is a few things that can happen, so don't forget this detail at the risk of making their work complicated!
For the caterer, you must be sure that the place has a kitchen equipped with a fridge and kitchen utensils for the food for example …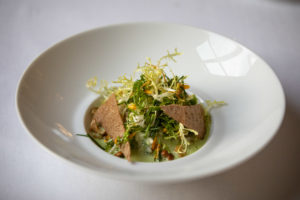 For all your service providers who need a power supply such as music of the DJ band, lights … make sure that the place has enough outlet or provide extension cords. If the wedding is outdoors, also ask if the site has an outdoor outlet. If not, also plan for extensions.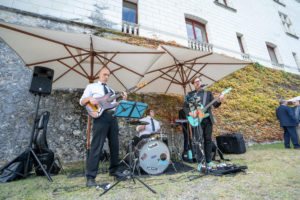 For the florist, do not forget to reserve a place in the shade for the placement of its flowers so that they do not get damaged.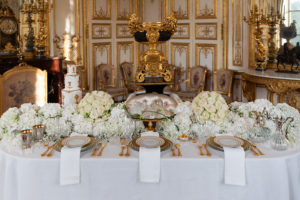 For the bride preparation, reserve a room at the event site so that the makeup artist and the hairdresser work in good conditions and that the bride feels comfortable.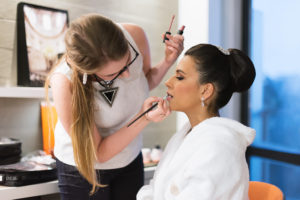 LEARN ABOUT INSURANCE
In the venue, an accident quickly happened, a spilled glass, a broken vase … No matter how it happened, think about having good insurance that will take care of all the damage. Places such as castles have for most objects of great value and very fragile so do not miss out on good protection! Use it the D-Day if any problem arrives.
Now you know all weddings things and the essential questions that need to be asked while preparing for the happiest day of your life. Of course, if all this work seems unimaginable to you or you do not have time to take care of each provider, do not forget that a wedding planner will help you entirely to prepare your wedding so that you have the spirit to release .
She will take care of each provider on D-Day so that you can make the most of this day, which only happens once in a lifetime.