Featured on French wedding style :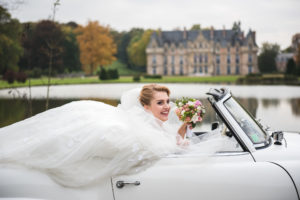 All guests (two families, friends) can enjoy and cognize French « art de vivre », French food, culture
It was a real princess wedding in French château, all girls have to have this fairytale.
Artem and Victoria have are met via a Victoria girlfriend.
They became friends and fall in love very quickly. 4 years past it was natural they should marry.
Artem offers Victoria to have a different wedding, romantic and finds a wedding planner in Paris, CTH EVENTS PARIS.
Victoria have contacted us in June 2015,  We prepare the proposal with 10 castles regarding Victoria& Artem's criteria, 4 of them were chosen for a visit.
But before Artem had secretly contacted Inga and asked to organize the wedding proposal.
Artem actually never made his proposal and then they came to choose the castle for their wedding he wanted to make his proposal.
Inga, therefore, organizes a beautiful marriage proposal on the Bir Hakeim bridge with Rolls Royce white, red roses, and under the sound of a violin.
Victoria had the appointment at Zuhair Murad, Inga proposes to meet the photographer who works that day on the bridge Bir Hakeim, Inga sends a Rolls Royce to seek Vika & Artem in the shop and year arrived on deck, Artem offers her red roses, leaves the ring, violin and began playing Vika very touched turned to Inga and demanded: «  but what does he do? he made his proposal ???? »
Many emotions, violins, champagne, photo shoot, and we brought our lovely couple to enjoy the dinner with the glittering Eiffel Tower.
We had 3 months to organize the wedding, during our visits the couple chose the Chateau d'Esclimont, a beautiful Renaissance castle with towers, turrets, water moat, and 60 hectares of forest around. A welcome dinner was held the day before dinner with red colors, the tables were decorated by red roses, red 'Pommes d'amour »  at the entrance to the red carpet and the path formed by the red candles waiting for the guests for the evening, Inga made a casino so guests were entertained with the roulette, blackjack and other casino games before enjoying the night.
Victoria was determined to have a ceremony outside and we were very lucky to have mild weather in the middle of October, the ceremony was beautiful in front of the castle under a covered majestic arch of roses (we have used 9 shades of pink roses) under the violin sounds and cello.
Yellow, red, green trees around the place of ceremony. Autumn in France is very beautiful and in my opinion, this is the best time to come to France.
The beautiful bride was able to make good choices, designer training, the future designer and stylist, she has a good taste and she knew what she wanted for her wedding.
The concept of marriage was chic, elegant, golden, tables, and reception hall were decorated in strict harmony with the concept of marriage. Inga does all decoration herself and arranges the wedding in the true French style.
For the wedding cake, we brought a Russian pastry and wedding cake decorations that respected the colors of the wedding theme.
The different activities were planned for the wedding: jazz band, cabaret entertainment, stilt walkers, fireworks and ballerinas dance for which the costumes were designed especially for this wedding.
Hundreds of candles were installed on the red carpet.
All guests (two families, friends) can enjoy and cognize French « art de vivre », French food, culture
It was a real princess wedding in French château, every girl has to have this fairy tale.