Paris Luxury Hotels weddings Venues – Part 2
Paris Luxury Hotels Weddings Venues – Part 1
This article will present you some of the bests Parisian Luxury Hotels where you can get married. We will share with you these exceptional addresses and help you with our wedding planner tips to realize the elopement or wedding of your dreams because your love story deserves the best romantic place in the city of love!
Hotel de Crillon
It is good to know that this hotel can let you choose the vendors and providers that you want. So, by choosing this place for your wedding venue you will have the luck to enjoy the luxury services of a Parisian palace and you will be able to express you creativity and personalize everything at your taste at the same time!
Bar des ambassadeurs
To begin your stay in Paris, why not celebrate your bachelorette party in the Hotel de Crillon's bar? They can organize for you a nice party with musicians so you can enjoy the view over the Place de la Concorde drinking their high-quality selection of champagne and laughing with your best friends!
SPA and pool
The following day you will enjoy the restful SPA to be relaxed for the d day! After a body care, a massage, a time in the sauna, in the hammam and in the pool you are going to be ready for makeup and hairstyle.
Ceremony and reception rooms
For a romantic and intimate wedding, you can choose between the Marie Antoinette room with a beautiful terrace or the Batailles room for an elegant and historical décor. They both have beautiful view over Paris roofs and most iconic monuments and can welcome sixty people.
The Aigles room is more adapted for a bigger number of guests, around hundred, as romantic as the other ones it has a stunning gold decorated selling.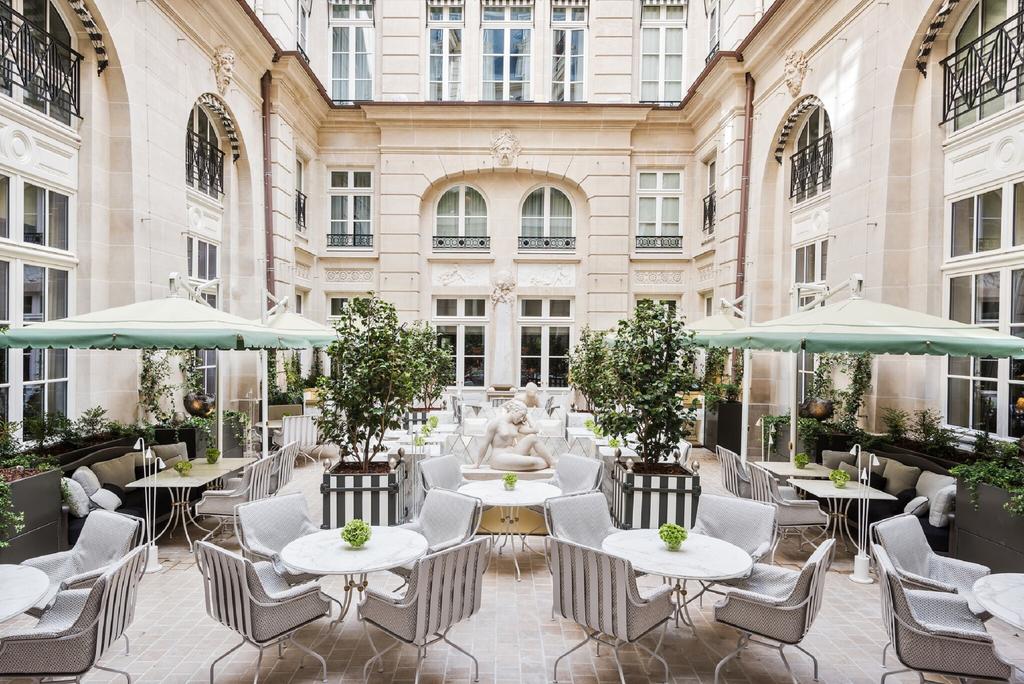 Shangri-La Hotel
The fabulous decors of this hotels will make you travel through time and feel like a queen in his palais. Upon the entry, there is already a spot for your wedding pictures: the amazing black and white grand staircase will make your wedding dress stand out perfectly! And this is just the beginning…
Ceremony and reception rooms
In the Shangri-La Hotel you have the widest choice in terms of rooms. They have some absolutely stunning decors that will make you feel like you are in the Chateau de Versailles! Moreover, these rooms are transformable to your taste depending on the design you are going to select, and they are suitable for large numbers of guests weddings. The showstopper of these rooms are the terraces which overviews Paris roofs and the famous Tour Eiffel will shines brightly to celebrate your love! For a more intimate wedding, and if the weather permits, you can organize your ceremony in the garden surrounded by flowers and overhung by the Eiffel Tower of course!
Gastronomic wedding menu
In Shangri-La, you can choose a French traditional cuisine or the best Asia's specialties of France for more exotic and unique wedding dishes. They will be prepared by a two stars Michelin chef.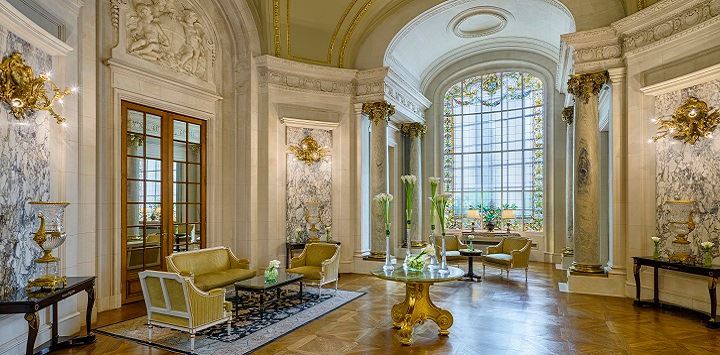 Mandarin Oriental
The Mandarin is the best wedding venue if you want a modern hotel for this special day. The fact that it is a contemporary decorated hotel will make your wedding more remarkable than others. Moreover, a modern venue gives a more authentic and singular feeling to your reception and help focus on the love that is celebrated.
Cake Shop
We think that the Mandarin's Cake Shop is the perfect place to start your bachelorette party! They have some delicious cakes and deserts made by two pastry chefs. Then you can pursue the festivities in the hotels bar 8 to enjoying refined cocktails and delicious tapas in a glamourous and sophisticated place.
SPA
The SPA and it pool are made to relax your body as well as your mind. Indeed, the contemporary architecture of the SPA make it even more restful than others because it is more minimalistic. It is a really great point if you are a subject to stress because we want you to take full advantage of the best day of your life!
Suites
The Mandarin's suites are perfect to organize your preparation (makeup, hairstyle, dress up) because we can do beautiful boudoir photoshoots with view over the Eiffel tower.
Ceremony and reception rooms
The flowered indoor garden is great for a ceremony or a cocktail and you can continue the festivities in one of the rooms on the first floor that overviews the garden as a decor guideline. You can also end up the party in the terrace to enjoy a nice view over La Ville Lumière (the city of light).
Gastronomic wedding menu
With tree restaurants handled by two stars Michelin chefs, you will find the dishes that you like. Indeed, they proposes traditional French cuisine but also a creative cuisine and they are can adapt them to every dietary.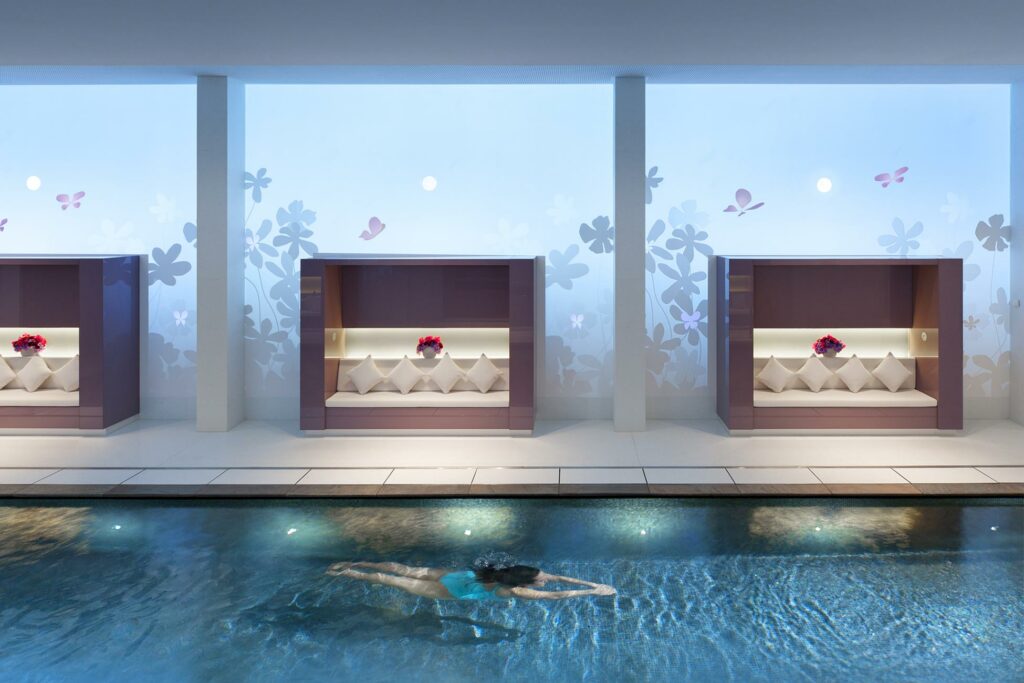 Paris Luxury Hotel Wedding Venue – Part 3
Chateau weddings venues in France