You are in Paris, and you don't know where to go because there are many options. However, you can go to a rooftop in Paris with incredible views of the city. Besides, if the weather is great, you will have an incredible day. Few cities have so many monuments as recognizable as Paris. Parisian roofs never lose their charm. There's nothing more romantic than spending an afternoon watching the sun fall on the Parisian horizon with a drink in your hand and your partner. Bars, restaurants, pubs, intimate or luxurious, elegant, or festive, above a hotel, museum or shopping center, the rooftops offer a multitude of options to enjoy an evening at the heights.
Hôtel National des Arts et Métiers
Intimate location, the terrace of the Hôtel National des Arts et Métiers is for thirty people, so you think of booking before going. Here the weather is perfect, the blue sky, the benches in grey and white, the ideal place for couples… A place where you can relax, there are also sofas and stools to enjoy the beautiful view of Paris. How to get here:
243 rue Saint-Martin, Paris 3ème
Métro : Arts et Métiers ou Réaumur-Sébastopol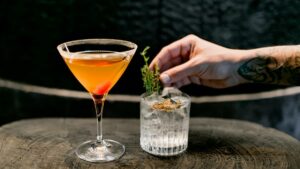 Le Perchoir
On the roof of the famous BHV shopping center, you will have a very special view of the Hotel de Ville, Notre Dame Cathedral, and the rooftops of Le Marais. A cocktail bar with a super relaxed atmosphere. This is one of the most popular rooftops in Paris. Le Perchoir Marais is a cocktail bar that "spoils" its guests in a vintage atmosphere. Something between elegance and minimalism. It is a place where they propose original cocktails, beers and very good wines, as well as a good "apéro". And for a good atmosphere, varied background of music, according to the whims of the team. How to get here:
37, rue de la Verrerie, Paris 4ème
Métro : Hôtel de Ville ou Châtelet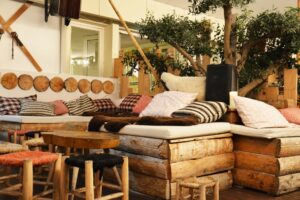 Le 43 Up on the Roof
You surely hold from the top of this roof the most beautiful view of Paris. Stop for an evening, arriving early to enjoy the day view, the breathtaking sunset over the capital, and finally the panorama of the city of light at night. Located above the Holiday Inn Paris Notre-Dame, in the famous Quartier Latin. A cocktail bar with a super relaxed atmosphere. It is very modern and at the same time romantic. From there you can enjoy the beautiful views of the Sacré-Coeur and the Eiffel Tower. Don't forget to make reservations beforehand. How to get here:
4, rue Danton, Paris 6ème
Métro Saint-Michel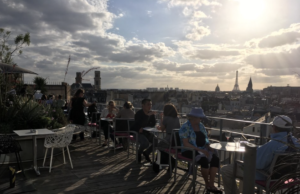 Perruche
Perruche is a cocktail bar and a restaurant and has many regular customers. There is a bar that has a pool house appearance and a restaurant of 500 m2. Installed on the shop Printemps. It has an excellent kitchen, as well as bottles of very good quality and a selection of cocktails recommended by Nico de Soto. How to get here:
2, rue du Havre, Paris 9ème
Métro : Havre-Caumartin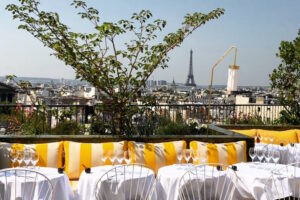 Auteuil Brasserie
In the old train station of Auteuil, on the rails of the chic 16th arrondissement. This discreet Parisian rooftop takes us on the terraces of the Trastevere in full Rome, with its flowers, its cozy corners, and its 100% dolce vita menu. The Auteuil Brasserie, the rooftop of the eponymous restaurant, has managed to create an elegant country atmosphere. The combination of vegetation with wooden and wicker furniture makes this place unique. How to get here:
78, rue d'Auteuil, Paris 16ème
Métro : Porte d'Auteuil

Georges
It has a panoramic view from the center of Paris. Café, bar and restaurant, and at the same time, festive, elegant, and romantic. It offers a stylish design where you can enjoy a refined and inventive cuisine. You can also take advantage of a moment to have a drink at sunset, thanks to the tables installed on the roof of the Centre Pompidou, with its simply breathtaking view… In a modern building surrounded by architectural buildings of Haussmann. It is one of the best terraces in the city and ideal for watching the sunset! How to get here:
19, rue Beaubourg, Paris 4ème
Métro : Rambuteau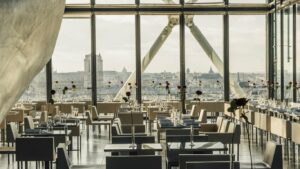 Khayma Rooftop Bar
An open-air rooftop bar between the Buttes Chaumont and the Canal Saint-Martin, with direct views of the Sacré-Coeur. The 9th floor and top floor youth hostel, Generator Paris. It is a rooftop as modern as casual: styles between suspended chairs, high chairs, and plastic stools. Also, people of all ages come to this place. It is a place where you dance thanks to the DJ Sets electro, and also chat, and enjoy original cocktails with a view over the Sacré-Cœur! How to get here:
9-11, place du Colonel Fabien, Paris 10ème
Métro : Colonel Fabien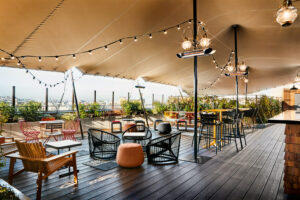 Terrass' Hotel
In the butte Montmartre. It's the seventh floor of the Terrass' Hotel! Composed of an indoor bar-restaurant and a terrace. Elegant and relaxed at the same time with its comfortable swings and round tables. Many cocktails or long drinks are offered, as well as charcuterie tables and cheeses, as well as a Sunday brunch. Enjoy views of the Eiffel Tower in this elegant setting. The bar is open from noon to midnight 7 days a week. A rooftop of choice to admire the sunsets while sipping a custom cocktail in the heart of the truculent Montmartre. How to get here:
12-14 rue Joseph de Maistre, Paris 18ème
Métro : Blanche

Hotel Raphael Paris
A very elegant place. Champagne bar and restaurant, it's the terrace of the Hôtel Raphael Paris. For lunch, dinner or a drink, it is almost obligatory to book, there are also VIP tables available to enjoy even better the breathtaking views of the city. The decoration, worthy of an Italian terrace, is like a hanging garden where you can enjoy a cocktail in the sun. How to get here:
17, avenue Kléber, Paris 16ème
Métro : George V, Boissière ou Argentine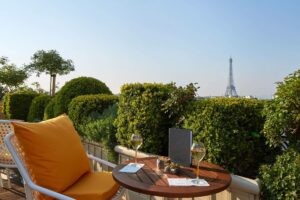 Hotel Molitor Paris
Bar and brewery, the Molitor offers a very summery and sunny rooftop. In an Art Deco building, you can try different atmospheres and taste cocktails, mocktails, or mojitos, observing the neighborhood on one side, the pool on the other, among aromatic plants and colorful furniture. How to get here:
6, avenue de la Porte Molitor, Paris 16ème
Métro : Exelmans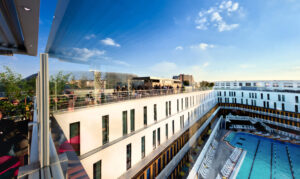 Mama Shelter
Very well known for their parties. The Mama Rooftop welcomes you all for lunch, aperitif, or dinner. Drinks and finger food, or full menu, the best thing about Mama is her grill! In the program: roasted chickens, ping-pong tables, parasols, and huge benches protected from the outside gaze. This place is the work of the architect Philip Starck is one of the most beloved hotels in Paris. Recently the place opened its doors to a bar on the terrace and that only increased its popularity. The only downside is that it opens only on Sundays. How to get here :
109, rue de Bagnolet, Paris 20ème
Métro : Porte de Bagnolet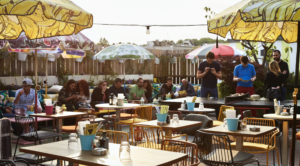 Creatures
A veggie rooftop! Galeries Lafayette has the Creatures restaurant on its terrace. Led by chef Julien Sebbag, this ephemeral space features a vegetarian restaurant, an urban garden, a cocktail bar around plants and herbs, and a festive program. A vegetable parenthesis combined with a magnificent view! Before or after your drinks, you can access the most secret part of the terrace: Sous Les Fraises. There you will find a garden of over 1,000 square meters with 150 different types of plants and flowers. If you want to explore this beautiful garden, you have to book one of the weekly tours of Galeries Lafayette. How to get here:
40 boulevard Haussmann, Paris 9ème
Métro : Chaussée d'Antin-Lafayette

Le Zyriab by Noura
Bar, restaurant, and tea house. A panoramic terrace of 300 m² hidden on the ninth floor of a Parisian monument… This is what the Institut du Monde Arabe has achieved by installing the restaurant Le Zyriab on its roof. Paradise of Lebanese gastronomy, here you can enjoy a delicate and refined cuisine, a tea or a cocktail, with a breathtaking view over l'île de la Cité! How to get here:
1 rue des Fossés Saint-Bernard, Paris 5ème
Métro : Cardinal Lemoine, Jussieu ou Sully-Morland
Maison Blanche
Is the terrace of the Théâtre des Champs Élysées. In an elegant district of the capital, the famous Maison Blanche restaurant offers a terrace overlooking the Eiffel Tower. The program includes stunning views and refined cuisine, in a cozy atmosphere. The restaurant has two spaces, the living room along the "Baie Vitrée" with views over the west of Paris, and the upper floor, the "Mezzanine", which offers a panoramic landscape and features a glowing bar and the famous terrace "George V". How to get here:
15, avenue Montaigne, Paris 8ème
Métro : Alma-Marceau ou Franklin Roosevelt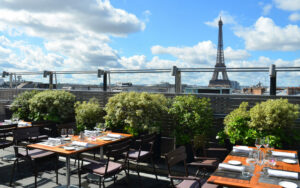 Laho
Not so far from the train station "Gare de Lyon". You will enjoy a 360 degree sunset over Paris. For a natural atmosphere, the rooftop is fully vegetated. Please note, places will be limited. Indeed, every evening, 100 lucky people will have the chance to chill up there. In the future and once COVID restrictions have been lifted, the rooftop will accommodate 200 people. This rooftop has its gourmet menu signed by chef Julie Basset. To access this new rooftop, open Tuesday through Saturday from 6 p.m. at midnight, you must take a private elevator. Once on the 18th floor, let yourself be surprised with this unique and exotic plant terrace. How to get here?
5-9 rue Van Gogh, Paris 12ème
Métro: Gare de Lyon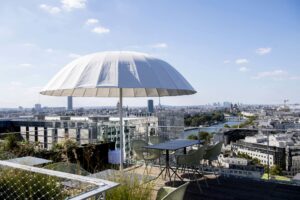 5-9 rue Van Gogh, Paris 12ème
Métro: Gare de Lyon 
See more:
Unconventional wedding venue
See more:
Planning a wedding during COVID-19
Check out our
Pinterest
boards