---
Vows renewal in Paris
"To renew one's vows is to celebrate a victory over time, to think that one is not mistaken and to repeat oneself" I love you "
Renewing his wishes is a trend that has been asserting itself in recent years. This is due to the fragility of love relationships in our time that pushes many complements to celebrate each milestone: 20, 40, 60 years of marriage, as a small victory. Renewing vows can make a difference and it's a romantic way to confirm your commitment, your feelings and your motivation to make a successful two-year life last. What better than the city of love, Paris, to celebrate this love so strong and durable? You can choose to renew your vows to your loved ones and participate in the evolution of your love story or choose to celebrate this romantic moment just intimate with our wedding and event planner in Paris.
All Paris Vows renewal Packages:
4 Hours package 2540 €
What's Included:
Wedding Officiant
Personalized Romantic Symbolic Ceremony
Brides bouquet and groom's boutonniere
Violon
Professional photographer (4 hours) for your ceremony and photoshoot in Paris
Vintage car or black mercedes E
3 Hours package 2080 €
What's Included:
Wedding Officiant
Personalized Romantic Symbolic Ceremony
Bridal bouquet and groom's boutonniere
Professional photographer (3 hours) for your ceremony and photoshoot in Paris
Vintage car or black mercedes E
1 Hour package 1117 €
What's Included:
Wedding Officiant
Personalized Romantic Symbol Ceremony
Brides bouquet
Professional photographer (1 hour) for your ceremony and photoshoot in Paris
1. Management of the event schedule and On-site Coordination with a Personal Planner
At CTH Events Paris, we accompany the victors of love and lasting marriages, their desire to renew their wishes at their reception in Paris. According to your requests, we contact various providers, help you find the perfect venue for your ceremony of vow renewals and your reception and advise you on small details. With us, your vow renewal will be less stressful because you leave the details in the hands of wedding and event planner in France. You just have to focus on one thing: the sweet words that you would give to the one who shares your life for so long now.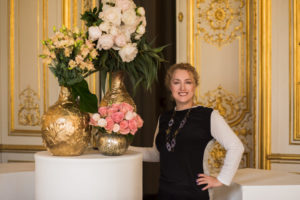 2. Symbolic or religious ceremony and Ceremony Officiant
The wedding is a unique and ephemeral day while we hope to revive this day every day of his life. Thus, it is not because you are already married that you cannot enjoy again the excitement of this day!
A renewal of religious vows
If your faith is great, let yourself be carried by a reaffirmation of your commitment after a marriage in which you have united for life. The church offers religious blessings adapted with kinds of Mass where the rings are blessed again.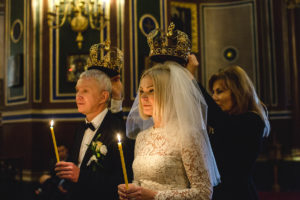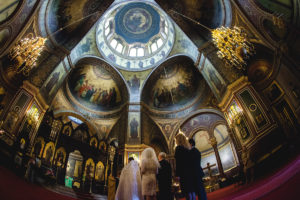 An informal renewal of secular vows
You can also choose to build a personalized moment to reaffirm your reciprocal feelings through readings, music or symbolic rituals of your choice. These renewal of vows can be led by a loved one or a ceremonial officiant.
+ Regarding the ceremonies CTH Events Paris offers high quality and experienced ceremony officers who will animate your ceremony of renewed of vows in the language of your choice and according to the information you have provided for your love story. This ceremony officiant may also help both of you in the writing of your vows to make it perfect.
3. Reception Venue Research
Concerning the place of reception for the evening of wedding your agency wedding planner is in charge to find the perfect place for the occasion! Whether you have chosen to celebrate this moment alone or surrounded by your loved ones, this evening will be incredible because CTH Events Paris has an address book of chic, Parisian, luxurious and well filled and available to you!
For those who wish to renew their wishes in an intimate and unadorned CTH Events Paris to places hidden from view and simple and extremely romantic.
For those who have not had a wedding at the height of their dreams, renewal of vows will give them the opportunity to engage caterer, musicians and any other provider of their choice.

4. Wedding Couple Photoshoot
This package includes a photoshoot of the couple in the romantic streets of Paris and in front of famous Parisian monuments for photos both "100% Parisian" and others more original and unique.
This photoshoot is the unique opportunity to create beautiful memories of one of the most beautiful days of your life. These moments that we would like to live each day of his life remain both in memory and in your frames and photo albums.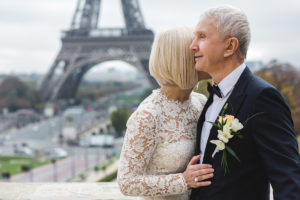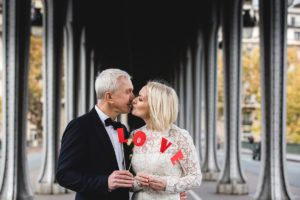 5. Luxury Car and Chauffeur
Your English-speaking chauffeur will escort you from your place of residence to your ceremony in the car of your choice. Whether you've always dreamed of a vintage French car, a horse and carriage, a limousine or a luxury sports car, now is the chance to make it happen with our luxury wedding planner in Paris!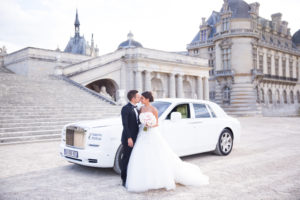 6. Bridal Bouquet
Your personalized wedding bouquet of flowers is part of the package. We work with various competent florists to create your dreaming wedding bunch of flowers that suits you perfectly.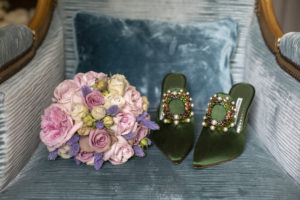 7. Additional Services
Make-up and hair
For your vow renewal ceremony, reception, or photoshoot it is still better to be on top!
For this, CTH Events Paris offers a hair & make up service tailored to the bride and groom for an even more spectacular rendering and beautiful memories.
FAQ
I) Where to make a wedding photoshoot in Paris?

Where to be photographed in Paris for his wedding?
Paris, thanks to its breathtaking monuments and its beautiful architecture, is one of the most photographed cities in the world. The city changes the way its look every season, but each season has its charm.
In Paris, typical Parisian cafés are one of the best spot for your wedding photoshoot. photography. This is where you can take piece of life type of pictures and eat some French specialties: croissants, macarons. In order to avoid the crowds of tourists and get better picture we visit cafés early in the morning.
Moreover, It's quite a smart idea to make a strategic stop in this place between two main locations for outfit change.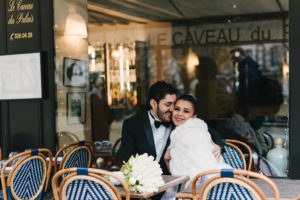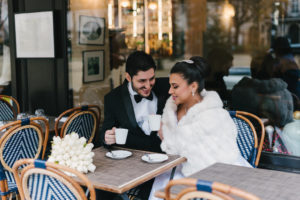 What better memory of Paris than his wedding photoshoot in front of the famous Eiffel Tower?
This place is the most requested place by the bride and groom for the wedding photoshoot.
After the Iron Lady, the Louvre Museum is probably the most requested location for couple's pictures in Paris and especially for wedding, elopement or even proposal photoshoot. The amazing architecture of the museum and the Louvre Pyramid offer both a perfect and elegant backdrop and a modern twist to your wedding photos
As you may guess, this place is one of the most visited places in Paris. In order to avoid crowds of tourists in your pictures we recommend to shoot at sunrise or to make night photos right after sunset.
Place Vendome is one of the best places to take photos of your destination wedding in Paris because it is so elegant and modern. The high end store fronts give the backdrop a sense of luxury. There is shade anytime of the day on one of the sides of the square. This means that we can take photos in Place Vendome basically at any time of the day.
The Parisian Place Vendome is one of the best spot to take photos in Paris because of its elegance. Thanks to the beautiful architecture of the place you'll get a beautiful background for your wedding pictures with a touch of luxury.
Notre Dame & Ile Saint Louis
Notre Dame Cathedral has always been favored by the bride and groom for the wedding photoshoot. This can be explained by the fact that this is probably one of the most authentic Paris photography locations because the city of Paris initiated from the two islands : Ile de la Cité and Ile Saint Louis which surround the Notre Dame Cathedral.
Unfortunately, since the fire that hit the Cathedral on April 2019, this location is recommended for the streets, river Seine views and cafés because the Cathedral is going to be covered for quite a long time in scaffolding and you can't have access to the little garden as you could before.
This place has character. It has a very pleasant Parisian look and it's since a long time a royal place. The Parisian look can be admire with elegant architecture, sumptuous columns also known as "Colonnes de Buren" and a beautiful garden which make this place the perfect one for your wedding photoshoot. However, the Palais Royal gets crowded fast, especially around 9AM, when French people start their work day. It looks pretty every season and also in the rain. Also, some place is covered in here so rain isn't a problem.
We have so many other wedding venues in Paris to offer for a perfect wedding photoshoot. Well-known places such as the Arc de Triomphe square, the Trocadero square, the Alexandre III bridge or Bir Hakeim. But also spots very Parisian and more authentic as the small streets of Montmartre.
II)

What if it rains on the shooting day?
Unfortunately, it is impossible to predict in advance if it will rain or not the day of the photoshoot… Nevertheless, be relaxed, you will have beautiful pictures with or without rain! In Paris, many places are covered where it is possible to make beautiful pictures in case of rainto make your perfect memory of your destination wedding in Paris. We know Paris by heart and all its hidden corners for more unique and romantic photos: covered secret passages, Louvre Museum, Royal Palace and so many others.
III) 

When is the best time to take pictures outside in Paris?
As you may know, in terms of photography: light is the most important thing to get a good result. So, the best light for photography in general is at sunrise or sunset, what we called the "golden hour".
For our Parisian photoshoots, we distinguish three popular starting times: sunrise shoots, late morning shoots and night photo sessions.
1) Sunrise shoot
In Paris, the sunrise varies depending on the season: in the summer it is around 5:45 AM whereas in the winter it can be as late as 9:00 AM. No worries, we'll check together the precise sunrise time for your travel dates in order to have the best photoshoot.
Which are the benefits of a sunrise shoot?
At sunrise, you get the most flattering light and there are almost no people around which is very important because Paris is one of the most visited cities and people love to organize their events and weddings in France. It just feels like you have rented the city out for yourself.
Which are the drawbacks?
Even if you're a morning person, it's not always easy to wake up very early to get ready for a photo shoot!
2) Late morning
If you're a late riser wishes to take its pictures later in the morning, this is the perfect time for you as those photo sessions are scheduled around 9 AM-10AM.
Which are the benefits of a late morning shoot?
The sun is already high which gives the pictures a bright and airy feel.
Which are the drawbacks?
In late morning, the main issue is that there are already people around. So, not all the best locations will be available to take photos.
3) Night
Paris, the City of Light, is so magical at night ! Night photoshoots typically start at sunset around 5:00PM in the winter and 10:30PM in the summer. Once again, no worries, we'll check together the precise sunrise time for your travel dates in order to have the best photoshoot.
Which are the benefits of night photoshoot in Paris ?
Photos of a city that looks magical at night and gives to your picture a real romantic effect.
Which are the drawbacks of night photoshoot in Paris ?
Those night photoshoots require an associate that helps with lights. So, they are more expensive. Then, the light set-up takes time, meaning that we take less and more posed photos in the evening.