The Checklist: Plan Your Wedding From A To Z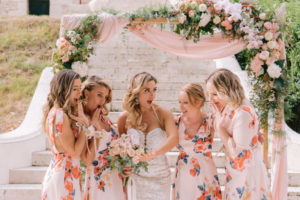 You probably just said yes and it's now certain! you're getting married. Congratulations. If you're thinking about getting married in Paris, let me tell you that you make the right choice. To have a wedding in France and especially in Paris is probably the dream of all couples. As a wedding planner, I offer you my services to make your dream come true.
Organizing a wedding is a real challenge and entrusting it to a professional wedding planner in France is really the best thing you can do.
Opting for a wedding planner means having the guarantee that this day will be the most beautiful of your life, it will remain engraved in your memory and in the head of your loved ones as well.
Having a checklist like the one I prepared below is something essential to start your preparations in complete serenity.
Whether you are a few months away or a year away from D-Day, this checklist is convenient and not insignificant because it will help you organize yourself and your ideas without stress.
Planning a wedding in France takes time. That is why we advise you to start preparations at least a little more than a year before. Starting so early allows you not to do everything at the last minute and to expose all your ideas to your wedding planner in advance. It also makes it possible to be sure of having the desired venue as well as all providers. If you do it too late, it's certain that no place will be available or that your service providers are occupied elsewhere!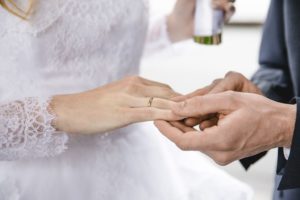 More than 12 months before
One of the first things to do is to keep your family informed. Tell them that you will marry in the manner of your choice, do anything you like. Whether it's at a restaurant or a dinner party at home, this moment will be remembered. This is the first step.
What happens next is the choice of your wedding date. Choose to get married during the season you like (spring, summer, autumn, or winter). Also, try to choose this date based on your family and their availability so that they are all present. This date will of course be approximate. Try to choose 3 dates to be the most flexible in case of change.
About the guests, feel free to make your guest list in advance to not forget anyone.
More than 12 months before, it's also very important to think about your wedding venue and start doing visits. Think also about your providers:
Choose your wedding planner in Paris as well as your DJ, caterer, photographer, videographer… If you choose a wedding planner in France, don't panic! She will take care of everything. You just need to do some research to let her know of your preferences if you have any.
Your wedding planner will then lighten the organization of your wedding while staying tuned.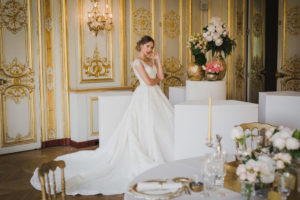 12 months before
1 year seems very far away. However, the days pass very fast and the day of your wedding will arrive very quickly. A year before your marriage set the budget for your wedding in Paris. Organize a meeting with your family and share expenses and tasks. Continue to discuss your desires with your wedding planner and listen very carefully to her advice. Also, it would be ideal to have already found your place of reception. If this is the case, book it without delay. Also, think more seriously about your service providers according to your budget and ask for prices.
10 to 9 months before
Your wedding is now less than a year away! The big day is coming, and you are all excited to live the most beautiful day of your life in Paris with your professional wedding planner.
A few months ago, you normally selected several wedding dates. Now it's time to select only one to finalize the venue, DJ, photographer…
Now try to focus on your wedding theme and share it with your Parisian wedding planner. You can choose a classic, elegant, French-style, bohemian theme… Many possibilities are available and your wedding planner is there to advise you and find the perfect decorations.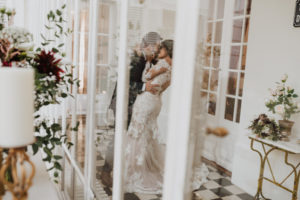 6 to 7 months before
The big day is approaching, and it is time to complete your guest list.
Remember to differentiate those who eat a different meal (allergies, preferences…).
It's also time to choose your witnesses and ask for their agreement! Your witnesses will have an important role in your marriage, so choose them carefully.
Don't forget to spend time with your partner and discuss the details of the ceremony together. Take time together to go and choose your wedding rings. Being with your partner is something important, don't forget this during the preparations for your wedding. This is why having a wedding planner is the best solution to enjoy your moments together. 6 months from the wedding, it's also time to choose your wedding cake! Do tastings to get an idea of what your guests are going to eat.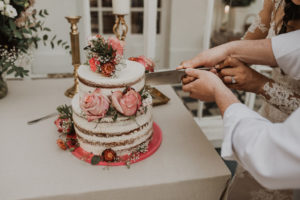 3 to 4 months before
Your marriage is now in 3 months! At this point, ideally, you already have your wedding location, your main theme, your decorations, your service providers (photographer, videographer, caterer, DJ, car rental…), and a complete list of your guests.
Now it's time to send your wedding invitations to each guest. Choose a card to send by email or stay in the traditional with paper invitation cards. Both will have their effect!
Choose your bridesmaids and groomsmen and keep them informed of their outfits if you want to impose a dress code on them.
Always about your guests, make a list of gifts that you could leave them as souvenirs of your wedding.
Normally, your providers are all reserved and confirmed but do not hesitate to contact them to be sure that everything is always ok. Also, think about your wedding insurance!
Finally, what would a wedding in Paris be without a sumptuous wedding dress and the perfect accessories to go with it?  Do your shopping to feel perfect on D-Day. Dress, underwear, costume, shoes, jewelry, perfume … don't forget anything.
Also always take the time to think about yourself and your partner, discuss your honeymoon, and book a hotel in a dream destination to relax after the wedding.
1 month before
A month before the happiest day of your life… The stress is here but don't panic if you have a wedding planner in France.
1 month before, you will have to adjust your wedding clothes as well as your hairstyle and make-up. Use a professional such as a stylist to be sure you don't make any mistakes.
If some things have not been confirmed with providers like your caterer, now is the time to confirm them. Also, confirm your floral decorations as well as your wedding bouquet. Review the arrangement of furniture at the wedding venue and contact your DJ or musicians (or both) to send them your final playlist. If you do this, you will have a free mind on the last days of your preparations.
Make a detailed calendar of the wedding day and send it to all your providers. Also, remember to notify your providers of the access reserved for them at the venue of the event.
Finally, write your wedding vows.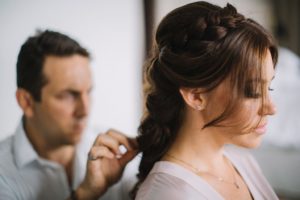 1 week before
You are now in the final stage of the preparations for your wedding. Now is the time to rest and take care of yourself. Spend time surrounded by people who are dear to you.
Contact your providers one last time to be sure that they are ready for D-Day and tell the photographer and videographer your wishes and expectations about your photos and videos. Also, check all areas of the organization and see if you have forgotten anything or anyone. Finally, consider preparing your wedding day emergency kit. It will be composed of medicines for sore throat, headache, bandages, thread for sewing, needle, a snack…
The day before
Tomorrow is the big day. You are probably stressed and anxious because you want this day to go for the best. If you have hired a wedding planner in France, she will be there to reassure you and take care of the last details. Enjoy and relax. Go to the spa, get a massage, ,and remember to do your manicure and pedicure to be on top on D-Day. Review and memorize your wedding vows and go to bed early to be in shape on D-Day.
D-Day
That's it, the big day has arrived. Wake up early and have a good breakfast. Allow enough time for your preparation and do not worry about the performance of your providers' tasks. Your wedding planner takes care of everything while you enjoy the best day of your life. Relax and be in a good mood at every moment.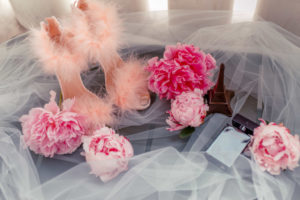 After D-Day
You still have stars in your eyes. You have just lived a dream and you have with you memorable moments of that day when you said "I do". Prepare your honeymoon with your partner and spend time together.
However, make sure that all rented items have been returned.
Organize your memories and don't forget to send a thank you card to all your guests who were there.
You now have all the keys in hand to organize your dream wedding in Paris. Contact your wedding planner in France to make your dreams come true and really enjoy this day, which only happens once in a lifetime.