---
ROMANTIC RESTAURANT IN PARIS FOR YOUR WEDDING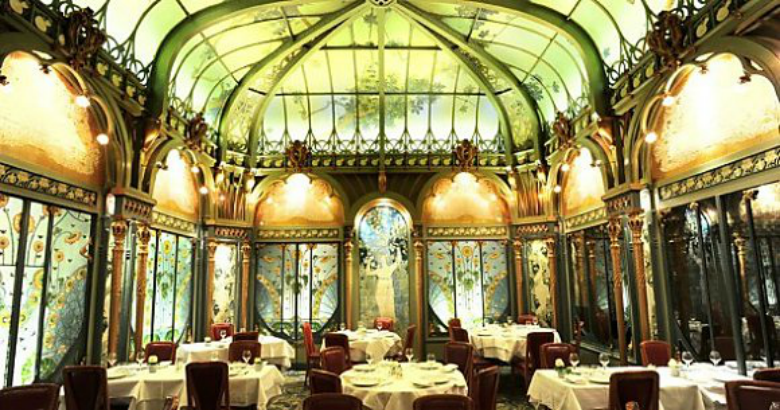 It is well known that Paris is the capital of romance. With its lights, its architecture and its narrow streets, the French capital never fails to seduce lovers. But what better than a dinner one-on-one for a romantic getaway for a night? Why not choose one of typical restaurants of Paris for your wedding dinner? Or your elopement in Paris ?
When you choose the restaurant for your wedding in Paris rather choose a historic restaurant.
When you sit at one of the tables of a historic restaurant in Paris is both savor the scenery that the contents of the plate. Witnesses of a bygone era, these institutions each tell a little of the history of the capital.
For a romantic wedding dinner discover our selection of historic restaurants in Paris.
Unavoidable historic restaurant in Paris, the Grande Cascade is a gourmet restaurant decor from the 19th century. The large building and has received high fly food lovers today previously belonged to Napoleon III rd. Inside, gilding and refinement make this restaurant a place of prestige for the happiness of the greatest gourmets.
A few steps away, the Auberge du Bonheur is a French restaurant charm. But at the time, it was of the Annex to the Grande Cascade, built by Napoleon III rd came to rest before a hunt. Today, the Auberge du Bonheur has retained its authenticity through a rustic setting full of history.
More to the center of the capital, Chez Georges is one of the legendary breweries in the 17th arrondissement of Paris. This historic restaurant draws its originality through a decor dating from 1926. Very chic, it is now a restaurant where you can enjoy French specialties such as lamb served tableside.
Finally, a historic restaurant in the Parisian look, Royal Vendôme is ideal: its setting from the last century remained unchanged. The knife beef tartare and other dishes of the house while enjoying the great seats of yesteryear, Art Deco style remains enthroned in all authentic breweries.