---
Paris elopement package
An elopement is a destination wedding that you celebrate just the two of you or only with very close family. It is a really romantic way and a simpler way to get married as you and your fiancé are secretly running away to get married. People who want to get married often choose Paris for their destination wedding in Parisfor their elopement. At CTH Events Paris, our destination wedding planner in France would be happy to help you achieve this elopement in the most beautiful city in the world!
All Paris Elopement Packages:
4 Hours package 2540 €
What's Included:
Wedding Officiant
Personalized Romantic Symbolic Ceremony
Brides bouquet and groom's boutonniere
Violon
Professional photographer (4 hours) for your ceremony and photoshoot in Paris
Vintage car or black mercedes E

3 Hours package 2080 €
What's Included:
Wedding Officiant
Personalized Romantic Symbolic Ceremony
Bridal bouquet and groom's boutonniere
Professional photographer (3 hours) for your ceremony and photoshoot in Paris
Vintage car or black mercedes E

1 Hour package 1117 €
What's Included:
Wedding Officiant
Personalized Romantic Symbol Ceremony
Brides bouquet
Professional photographer (1 hour) for your ceremony and photoshoot in Paris

In addition we can book for you a make-up and hairdresser artist, plan a cruise on Seine, advise some restaurants for your romantic dinner in Paris, order macaroons, champagne, everything is possible for your events and weddings in France!
Personal Wedding and Event Planner in France
Our wedding planner agency in Paris is a master in planning and styling of unique, distinctive and luxury weddings. We have clients all over the world which we accompany from the planning to the implementation.
All of our events are considered by "sur-measure" meanings : we do very individual styled weddings for each couple with extra touch of French style!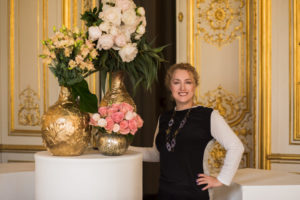 Symbolic Ceremony
Please pay attention !
Our ceremonies are symbolic so they are not legally recognized. From a legal point of view you should have a civil registration in your own country in addition to this real wedding in Paris.
Outdoor Ceremony
The ceremony's place remains public as long as it is not privatized! The ceremony can take place on the famous Parisian bridges of Bir Hakeim or Alexandre III, in Trocadéro (early in the morning to avoid crowds of tourists), in the famous Tuileries Garden, in Place de la Concorde or even along the banks of the Seine for a romantic wedding at the water's edge. If you want to privatize the place of the ceremony or weddings and events in France, it is possible but it is not included in the package. Extra costs to be expected!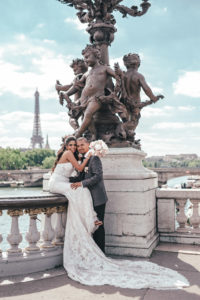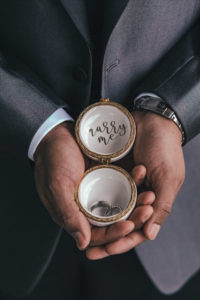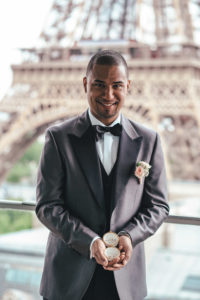 English-speaking Officiant and his ceremony script
Your English-speaking officiant will conduct an intimate ceremony or a ceremony which suit you perfectly, it just depends on your wishes and desires. She will read his ceremony script, written just for you and this special day of your life.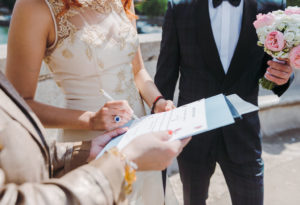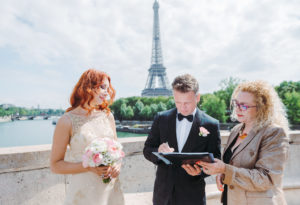 Symbolic wedding souvenir Certificate
After the Ceremony during which you'll say to your beloved, you take away a beautiful souvenir certificate as a memento of the day.
Personal Vows
To make this precious moment more special, our Wedding Agency suggests you to write your own personal vows for the ceremony. No worries, your Personal Planner can even help you with some tips and vow examples in case of need.
Wedding  flowers
Your personalized wedding bouquet of flowers is part of the package. We work with various competent florists to create your dreaming wedding bunch of flowers that suits you perfectly.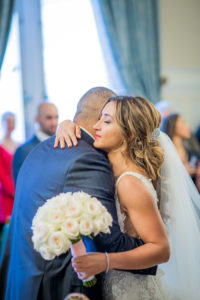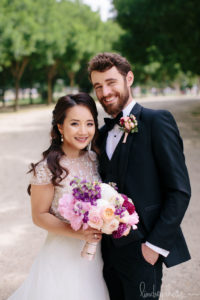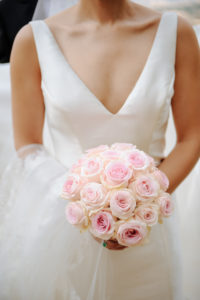 Professional Couple Paris Photo Shoot+ videos (if ordered)
After the ceremony you will be taken on an amazing chauffeur driven photo shoot and you'll be photographed at romantic locations to keep memories of this beautiful day. You can choose to visit the famous Paris monuments or we can help you to find some authentic Paris spots instead.
You also may be able to get a professional video of your wedding to capture this unforgettable moment, just need to ask !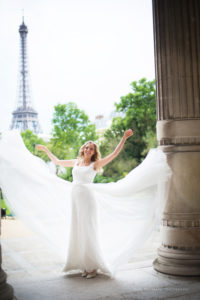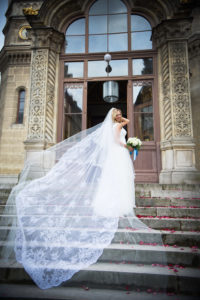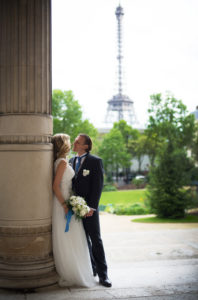 Luxury Car & Chauffeur / Luxury Chauffeured Transportation
Your English-speaking chauffeur will escort you from your place of residence to your ceremony in the car of your choice. Whether you've always dreamed of a vintage French car, a horse and carriage or a luxury sports car, now is the chance to make it happen !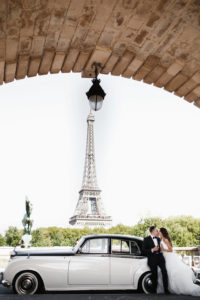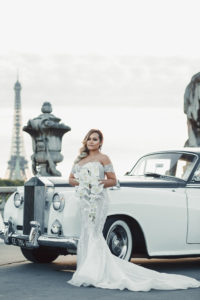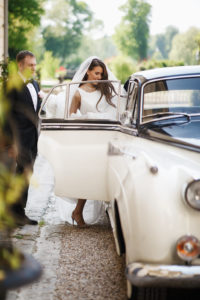 Additional services:
At CTH Events Paris, Inga Heusele is your wedding planner she's the one in charge of everything. She organizes your wedding but can also make hotel reservations, show tickets, romantic dinner at the Eiffel Tower restaurant, car rental, transfers and tourist bus services.
A wedding reception venue
For your wedding reception, we may advice you some restaurants and hotels that we used to work with by the past. Those places are totally suitable for wedding and offer a beautiful decor for your wedding photos and a beautiful reception.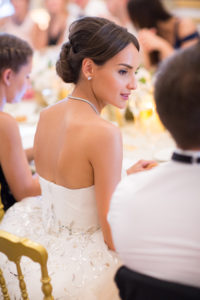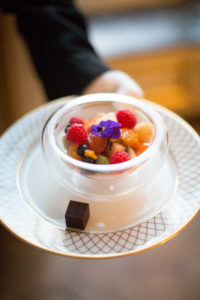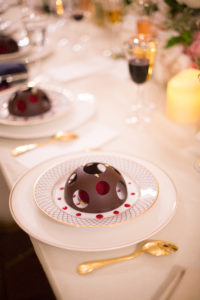 You may read our blog articles concerning the hotels where you can stay in Paris.
Accessorizes
You may also like to accessorize your basic package with add-ons like flowers, hair and makeup… Our wedding and event organizing agency creates beautiful floral designs, offers a refined make-up, beautiful decorations.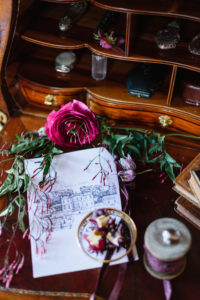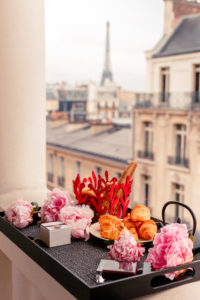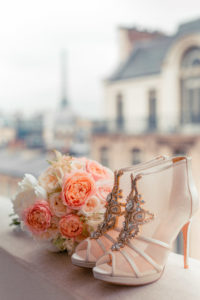 Boudoir photoshoot
You may also like to have your boudoir photoshoot the day of your wedding as a memory of this wonderful day of your life. Here are some clichés that we already made for bride the day of their wedding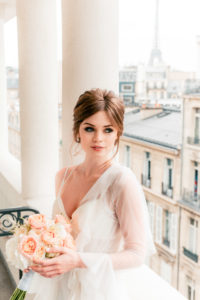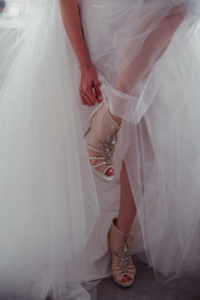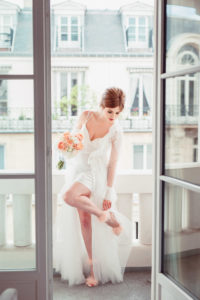 Balloons in Paris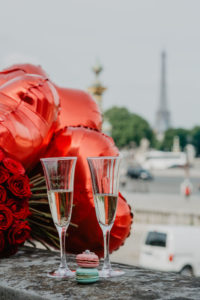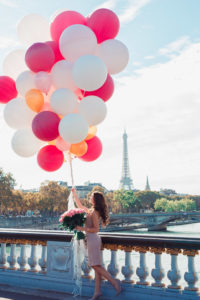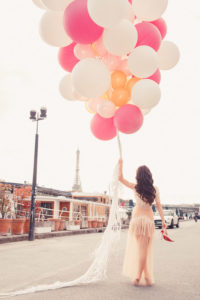 Makeup&Hair artist
To be perfect the day of the photoshoot, why not opt for a makeup and a hairdresser, especially for the occasion? This will allow a better professional rendering of your wedding photos and to make you pampered by by our destination wedding planner in France.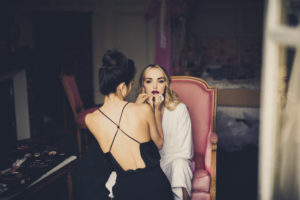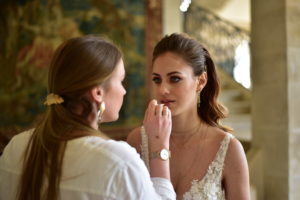 FAQ
I) Where to make a wedding photoshoot in Paris? Where to be photographed in Paris for his wedding?
Paris, thanks to its breathtaking monuments and its beautiful architecture, is one of the most photographed cities in the world. The city changes the way its look every season, but each season has its charm.
In Paris, typical Parisian cafés are one of the best spot for your wedding photoshoot. photography. This is where you can take piece of life type of pictures and eat some French specialties : croissants, macarons. In order to avoid the crowds of tourists and get better picture we visit cafés early in the morning.
Moreover, It's quite a smart idea to make a strategic stop in this place between two main locations for outfit change.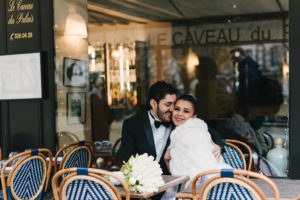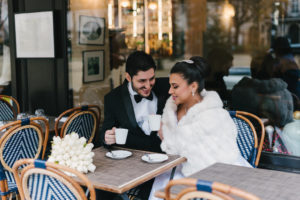 What better memory of Paris than his wedding photoshoot in front of the famous Eiffel Tower?
This place is the most requested place by the bride and groom for the wedding photoshoot.
After the Iron Lady, the Louvre Museum is probably the most requested location for couple's pictures in Paris and especially for wedding, elopement or even proposal photoshoot. The amazing architecture of the museum and the Louvre Pyramid offer both a perfect and elegant backdrop and a modern twist to your wedding photos.
As you may guess, this place is one of the most visited places in Paris. In order to avoid crowds of tourists in your pictures we recommend to shoot at sunrise or to make night photos right after sunset.
Place Vendome is one of the best places to take photos of your destination wedding in Paris because it is so elegant and modern. The high end store fronts give the backdrop a sense of luxury. There is shade anytime of the day on one of the sides of the square. This means that we can take photos in Place Vendome basically at any time of the day.
The Parisian Place Vendome is one of the best spot to take photos in Paris because of its elegance. Thanks to the beautiful architecture of the place you'll get a beautiful background for your wedding pictures with a touch of luxury.
Notre Dame & Ile Saint Louis
Notre Dame Cathedral has always been favored by the bride and groom for the wedding photoshoot. This can be explained by the fact that this is probably one of the most authentic Paris photography locations because the city of Paris initiated from the two islands : Ile de la Cité and Ile Saint Louis which surround the Notre Dame Cathedral.
Unfortunately, since the fire that hit the Cathedral on April 2019, this location is recommanded for the streets, river Seine views and cafés because the Cathedral is going to be covered for quite a long time in scaffolding and you can't have access to the little garden as you could before.
This place has character. It has a very pleasant Parisian look and it's since a long time a royal place. The Parisian look can be admire with elegant architecture, sumptuous columns also known as "Colonnes de Buren" and a beautiful garden which make this place the perfect one for your wedding photoshoot. However, the Palais Royal gets crowded fast, especially around 9AM, when French people start their work day. It looks pretty every season and also in the rain. Also, some place is covered in here so rain isn't a problem.
We have so many other wedding venues in Paris to offer for a perfect wedding photoshoot. Well-known places such as the Arc de Triomphe square, the Trocadero square, the Alexandre III bridge or Bir Hakeim. But also spots very Parisian and more authentic as the small streets of Montmartre.
II ) What if it rains on the shooting day ?
Unfortunately, it is impossible to predict in advance if it will rain or not the day of the photoshoot… Nevertheless, be relaxed, you will have beautiful pictures with or without rain! In Paris, many places are covered where it is possible to make beautiful pictures in case of rainto make your perfect memory of your destination wedding in Paris. We know Paris by heart and all its hidden corners for more unique and romantic photos: covered secret passages, Louvre Museum, Royal Palace and so many others.
III) When is the best time to take pictures outside in Paris ?
As you may know, in terms of photography : light is the most important thing to get a good result. So, the best light for photography in general is at sunrise or sunset, what we called the "golden hour".
For our Parisian photoshoots, we distinguish three popular starting times : sunrise shoots, late morning shoots and night photo sessions.
1) Sunrise shoot
In Paris, the sunrise varies depending on the season : in the summer it is around 5:45AM whereas in the winter it can be as late as 9:00AM. No worries, we'll check together the precise sunrise time for your travel dates in order to have the best photoshoot.
Which are the benefits of a sunrise shoot ?
At sunrise, you get the most flattering light and there are almost no people around which is very important because Paris is one of the most visited citiesand people love to organize their events and weddings in France. It just feels like you have rented the city out for yourself.
Which are the drawbacks ?
Even if you're a morning person, it's not always easy to wake up very early to get ready for a photo shoot !
2) Late morning
If you're a late riser wishes to take its pictures later in the morning, this is the perfect time for you as those photo sessions are scheduled around 9AM-10AM.
Which are the benefits of a late morning shoot ?
The sun is already high which gives the pictures a bright and airy feel.
Which are the drawbacks ?
In late morning,  the main issue is that there are already people around. So, not all the best locations will be available to take photos.
3) Night
Paris, the City of Light, is so magical at night ! Night photoshoots typically start at sunset around 5:00PM in the winter and 10:30PM in the summer. Once again, no worries, we'll check together the precise sunrise time for your travel dates in order to have the best photoshoot.
Which are the benefits of night photoshoot in Paris ?
Photos of a city that looks magical at night and gives to your picture a real romantic effect.
Which are the drawbacks of night photoshoot in Paris ?
Those night photoshoots require an associate that helps with lights. So, they are more expensive. Then, the light set-up takes time, meaning that we take less and more posed photos in the evening.