---
Magazine L'OFFICIEL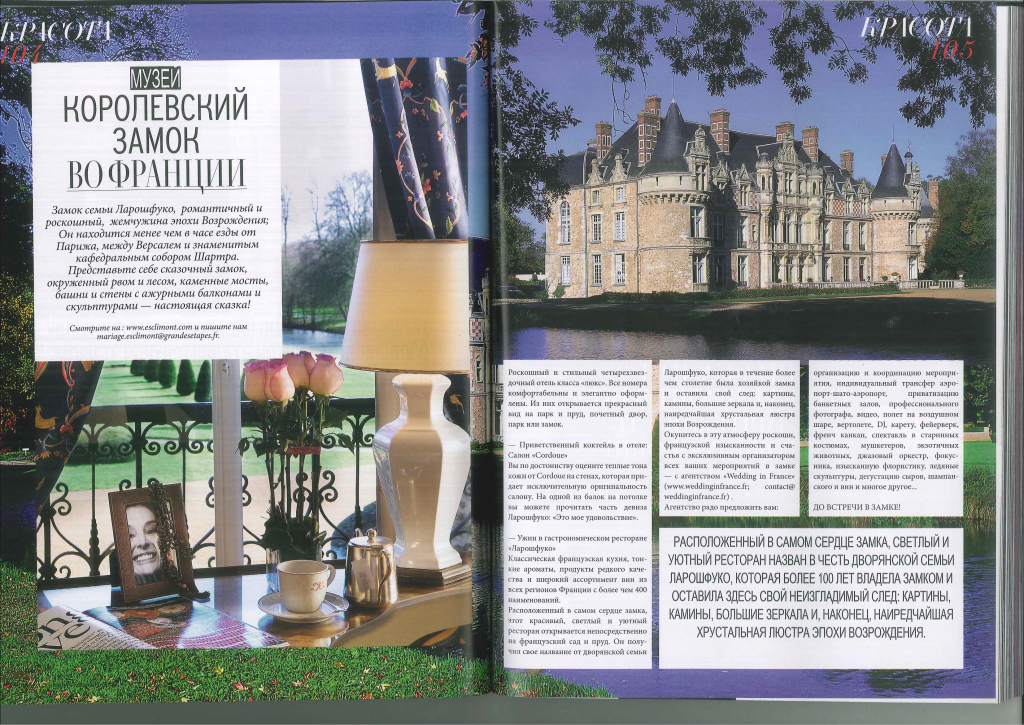 We are proud to be chosen by the château La Rochefoucauld as an exclusive wedding planner and appear in the publication of the famous magazine L'OFFICIEL of January, 2015.
Charming Castle, a romantic and luxurious jewel of the Renaissance, the castle of La Rochefoucauld family is a romantic stop less than one hour from Paris, between Versailles and the famous Cathedral of Chartres.
Imagine a fairy-tale castle surrounded by a moat and forests, stone bridges, towers and walls with openwork balconies and sculptures: a real gem!
Plunge into the atmosphere of luxury, refinement and happiness of the French with the organizer of all your events in the castle with the agency «Wedding in France» (www.weddinginfrance.fr; frenchweddinginfrance@gmail.com).
The Agency is pleased to offer you:
Organization and coordination of events, private transfer airport-Château airport privatization banquet halls, a professional photographer, video, balloon flight, helicopter, DJ, coach, fireworks, french cancan play in ancient costumes, musketeers, exotic animals, jazz orchestra , a magician, a refined floristry, ice sculptures, wine cheese, champagne and wines, and much more …
SEE YOU IN THE CHÂTEAU!