---
French Riviera Wedding Package
The "French Riviera Wedding Package" is a wedding package which includes all the main elements for a wonderful wedding day! This package is suitable for a wedding with approximately 15 people. If you plan on having more guests you may contact us to get some information on our "sur-mesure" weddings. Thanks to CTH Events and these special wedding packages in Paris, you can get married in French Riviera which is a really romantic place with an incredible view on the sea! And yes, in France, it is not only Paris that is romantic …
Personnal Destination Wedding Planner in France
Our wedding planner agency in Paris is a master in planning and styling of unique, distinctive and luxury weddings. We have clients all over the world which we accompany from the planning to the implementation. All of our events are considered by "sur-measure" meanings : we do very individual styled weddings for each couple with extra touch of French style!
At CTH Events Paris, Inga Heusele is your wedding planner she's the one in charge of everything.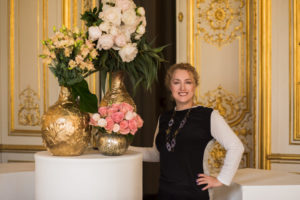 Symbolic Ceremony
Please pay attention !
Our ceremonies are symbolic so they are not legally recognized. From a legal point of view you should have a civil registration in your own country in addition to this real wedding in Paris.
Outdoor Ceremony
It is very important to know that the ceremony's place remains public as long as it is not privatized! If you want to privatize the place of the ceremony, it is possible but it is not included in the package. Extra costs to be expected!  In French Riviera, we can find you a lot of places or venues totally suitable for a wedding ceremony or weddings and events in France. Here is one kind of ceremony's place we may propose you for a romantic and idyllic wedding :
A wedding ceremony in the city of Nice, on the beach overlooking the sea!
For a luxurious wedding, Nice is a very good option! Moreover this city touches the sea and so you can organize your wedding on the beach with sea view! The sunrise and sunsets over the sea and the pleasant climate make it a perfect area to get married !
A wedding ceremony in 5 star hotel restaurant "La Chèvre d'Or" !
If you're staying at "La Chèvre d'Or" you may also celebrate your union in here and even organize your wedding reception then. The Golden Goat is an upscale 5-star hotel in the French Riviera, where it is possible to organize your wedding ceremony. Indeed, the hotel offers a magnificent view of the sea with huge terraces and even a small chapel for an even more romantic decor. You will find below some pictures of the wedding venues in France totally suitable for your wedding ceremony in France and more specifically in French Riviera :
English-speaking Officiant and his ceremony script
Your English-speaking officiant will conduct an intimate ceremony or a ceremony which suit you perfectly, it just depends on your wishes and desires. He will read his ceremony script, written just for you and this special day of your life.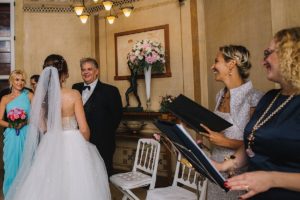 Symbolic wedding souvenirCertificate
After the Ceremony during which you'll say to your beloved, you take away a beautiful souvenir certificate as a memento of the day.
 Personal Vows
To make this precious moment more special, our wedding planner agency in France suggests you to write your own personal vows for the ceremony. No worries, your Personal Planner can even help you with some tips and vow examples in case of need.
Wedding  flowers
Your personalized wedding bouquet of flowers is part of the package. We work with various competent florists to create your dreaming wedding bunch of flowers that suits you perfectly.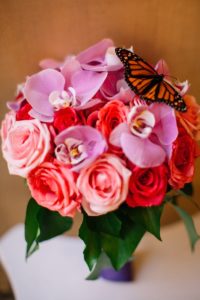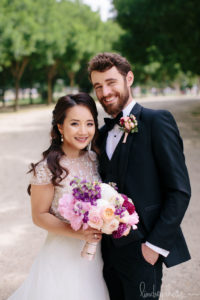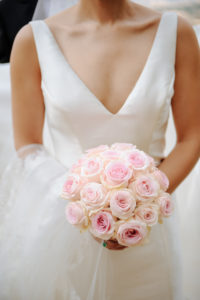 Luxury Car & Chauffeur
Your English-speaking chauffeur will escort you from your place of residence to your ceremony and the place of your photoshoot in a luxurious wedding car. Fulfill your dream with our luxury wedding planner in Paris!!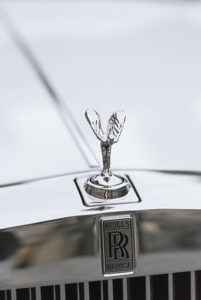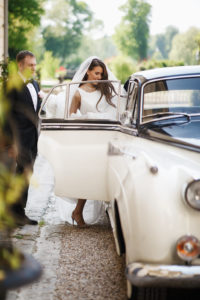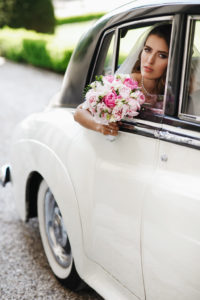 Professional Couple / Family Photo Shoot in French Riviera + Videos
After the ceremony you will be taken on an amazing chauffeur driven photo shoot and you'll be photographed at romantic locations to keep memories of this beautiful day. You can choose to visit French Riviera's famous places or we can help you to find some authentic spots instead for an even more romantic result !
You also may be able to get a professional video of your wedding to capture this unforgettable moment, just need to ask !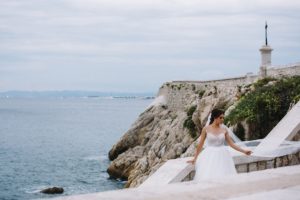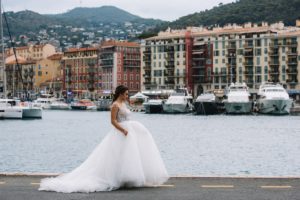 Additional Services
Adress Book of Places to Stay / Reception wedding venues in Francefor your wedding day
Thanks to our years of experience in the field of the wedding organization, we are able to propose you incredible places to stay during your trip or places of reception where to celebrate your union after the ceremony. In fact, we have a really good address book which we can put at your disposal.
Previously mentioned, "La Chèvre d'Or" with its three gourmet restaurants with terrace, its bar, fitness center, spa, outdoor pool, terrace and big garden with an incredible view on the sea, is one of the best places to stay and celebrate events and weddings in France! This Southern venue both romantic and luxurious is truly a dream decor ! It will make your wedding even more beautiful and let you enjoy a most successful wedding photoshoot !
Makeup&Hair artist
To be perfect the day of the photoshoot, why not opt ​​for a makeup and a hairdresser, especially for the occasion? This will allow a better professional rendering of your wedding photos and to make you pampered by our destination wedding planner in France. On your left, you may appreciate some clichés of our precedent brides getting prepared by professional hairdressers and make-up artists.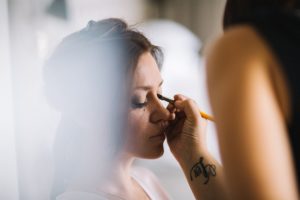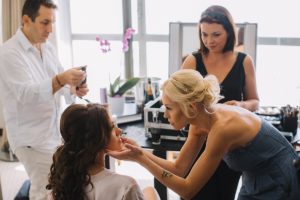 Boudoir Photoshoot
You may also like to have your boudoir photoshoot the day of your wedding as a memory of this wonderful day of your life. Here are some clichés that we already made for bride the day of their wedding